10 Epic Beginner Kayaking Trips 🛶
Organise a Great Kayaking Holiday for Beginners in Norway's Fjords, Isolated Peninsulas in Japan, and More
---
INTRODUCTION
Paddling in a foreign country's water in your very own kayak is a dream for many. For many, it remains in their head as just that: a dream, almost unrealistic. However, it's a lot easier to organise and actually go on a kayak holiday than you might think. There are actually an abundance of locations to kayak at a beginners level – it's just a matter of finding them.
The first of your own kayak holidays will be ticked off as one of those bucket list moments in life, and it will definitely be one of those moments in your life worth sharing on social media. There's nothing quite as immersive as being out there on the open waters in your very own kayak. And with that said, here's 10 great kayak trips, ideal for those just starting out in the sport.
This article is explicitly focused on kayaking, but canoeing these routes is certianly not an impossibility, and is just as valid a solution.
To help you choose between kayaks and canoes, click here for more information.
---
CLOSER TO HOME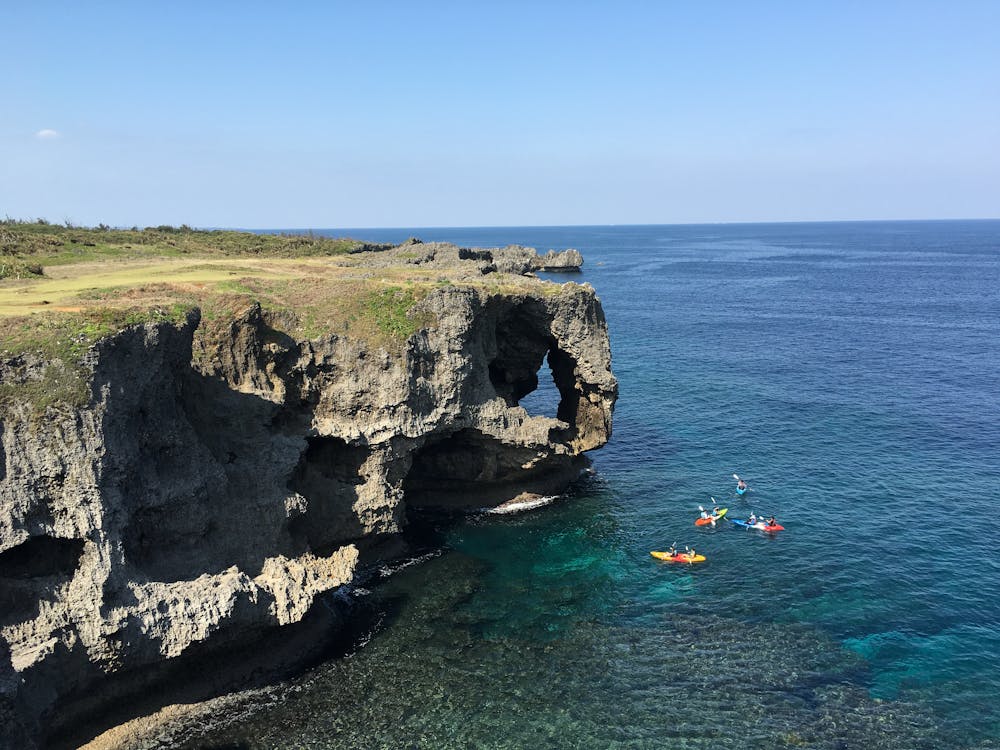 1 – FORAGING AND WILD CAMPING THE COAST OF PEMBROKESHIRE 🏴󠁧󠁢󠁥󠁮󠁧󠁿
For something far more local that won't require an entire week off work, try the National Park coast that is the coast of Pembrokeshire. You can go wild camping overnight in the local secluded beaches, then enjoy the rest of your day with guided sea kayak lessons, along with breakfasts and dinners made for you in camp. Local guides will also teach you about various bushcraft skills, such as catching and cooking your own seafood dinners over an open campfire.
2 – KAYAK SCOTLAND COAST-TO-COAST 🏴󠁧󠁢󠁳󠁣󠁴󠁿
Lying in Scotland is the Caledonian Canal. A paddle of around 100 kilometres, this is perhaps not as straight forward as most others on this list, however its distance doesn't mean that you will be needing immense skill to complete the journey, although a decent level of fitness would certainly do you a world of good over the five days. The reward for all of this? A stunning view of the infamous Scottish Highlands, paddling through Lochs such as Loch Lochy and the legendary Loch Ness. In the journey is also Urquhart Castle, constructed in the 1200's on an earlier Middle Ages fort, once one of Scotland's biggest castles.
---
EUROPE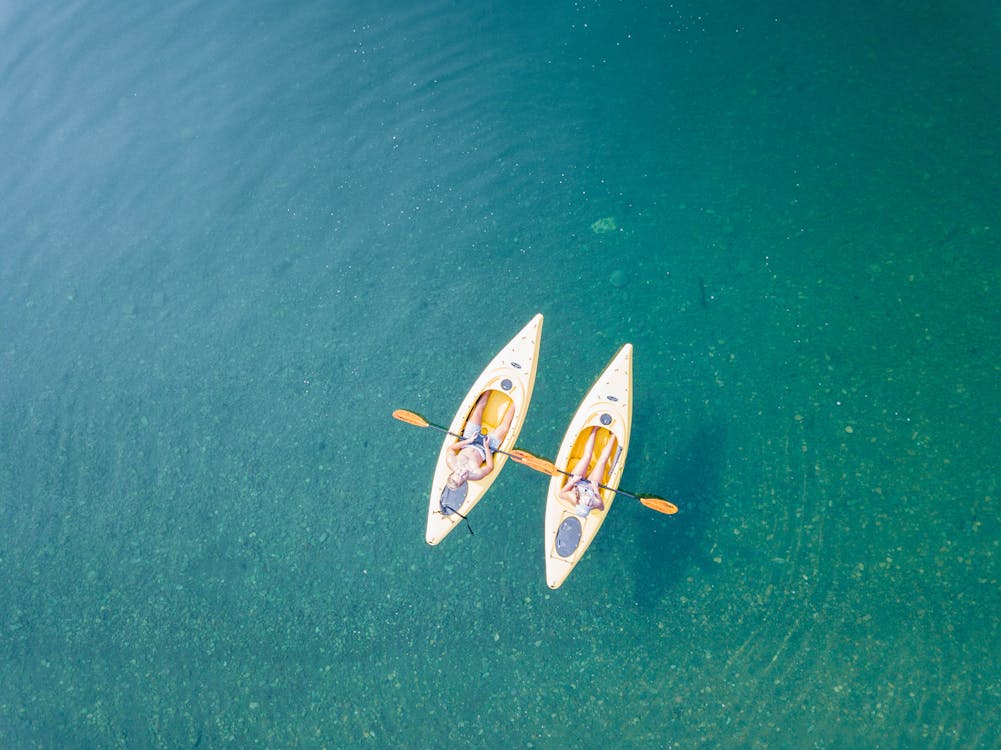 3 – PADDLING SOUTHERN MINORCA 🇪🇸
Minorca is full of both vastly populated tourist spots and unknown secluded beauty spots. On this beautiful Spanish-Mediterranean island, there are several secret little spots known to the local inhabitants, all fit for different spontaneous activities. Minorca's pristine turquoise coastline and white-rock cave systems are perfect for spending your day around, before wild camping along the beach for the night, away from the island's crowds in the popular cities.
At seven days long, kayaking Minorca's coast is a slightly longer trip than the others on this list, and it thus won't outright be the easiest adventure you could undertake, however prior kayaking knowledge and experience isn't a necessity, and the views are simply to die for. One spot to look out for is Son Saura, which is the biggest beach in the island's south-west, ideal for a nice swim, and one food item to look out for is mayonnaise, since it was on this very island that mayonnaise was born, over two-thousand years ago.
4 – SARDINIAN SEA KAYAKING 🇮🇹
Underneath the beaming hot Italian sun, stunning sea cliffs await you as you pass isolated Italian beaches off the crystal-clear, bright blue coasts of Sardinia. When you've finished in the waters, there's always the great local Italian sea food and drinks. It's the ideal trip to make for those that like mixing rugged adventurous outdoor activities with luxurious and pampered stop-offs.
Sardinia stands today as one of the only five "Blue Zones" in the world, meaning that its residents often live to be at least 90 years of age, and when you come to Sardinia you'll quickly see why; locations to visit include Neptune's Grotto, near the town of Alghero, a stalactite cave only first discovered in the 1700's which cannot be missed on your trip to Sardinia.
5 – CROATIAN WILD CAMPING 🇭🇷
Croatia's spectacular Zrmanja River is a great weekend-long kayaking trip waiting to happen. The river's clear, beautiful turquoise water slicing through deep canyons, making stops to play about in the many pools and waterfalls on the way through before camping for the night by the riverside round a campfire – in summary, all of the Croatian beauty without all of the crowded Croatian tourism. Some sights not to miss are the beautiful Zrmanja waterfalls, and the coast of Dalmatia.
6 – GREECE'S PELION PENINSULA 🇬🇷
Beautiful coastlines and medieval castles await you as you kayak up the Greek peninsula of Pelion. Starting at the quaint village of Tsagarada, one sight not to miss is Prasouda – also known as Cookie Island – which you can explore by foot, hiking across the abandoned local Medieval Greco-Roman monastery. Some of your kayaking days will also start at Damouchari's old harbour, which appeared in the film "Mamma Mia!"
7 – NORWAY'S FJORDS 🇳🇴
Right off the bat, the Norwegian Fjords are stunning; they look like they've been ripped straight out of a fantasy novel, and is thus right on this list. Kayaking through the Nærøfjord, which is a UNESCO World Heritage Site, will be topped off with a good night's camping with the BBQ, as you sit by the side of the fjord itself. And it's a relatively simple paddle itself, so there's next to no real experience needed; the route is 17 kilometres in total, with the narrowest point of the route being only 250 metres in width.
8 – SWEDEN'S CULINARY KAYAKING 🇸🇪
While Sweden is certainly abundant in other beautiful views throughout its Scandinavian landscape, the country's vast archipelago is equally worth sighting; Saint Anna Archipelago, a series of over 6,000 individual islands and reefs, is home to plenty of fish, lamb, boars and naturally growing fruits and vegetables. Should you wish to make the stop, local expert chefs will even show you some of their best foraging and cooking techniques for these foods.
---
ASIA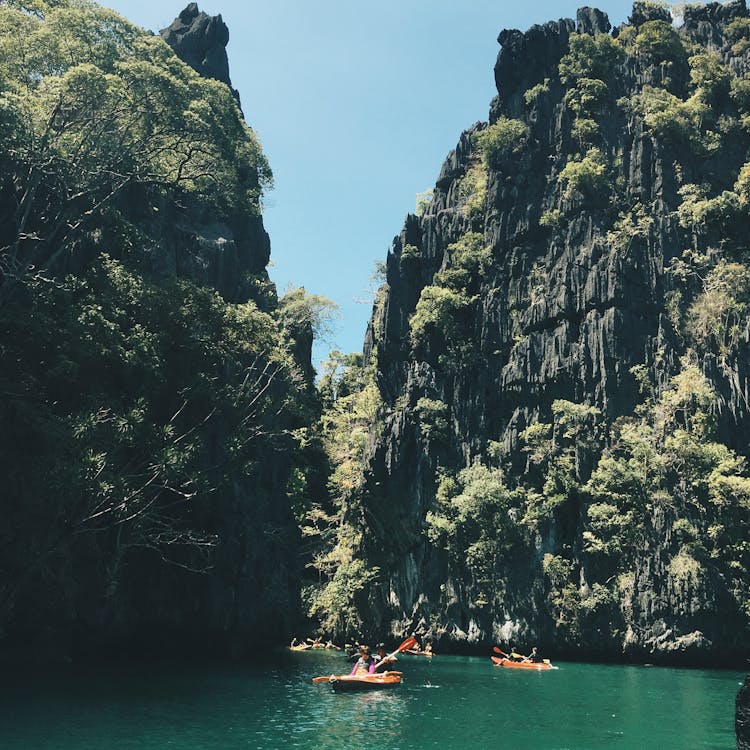 9 – INDONESIAN ISLAND HOPPING 🇮🇩
Indonesia gives the perfect opportunity to go hiking, snorkelling and, of course, kayaking in the border-waters of the Indian and Pacific Oceans. It's probably not the set of activities or the location for them you'd've considered before, but often the places and activities you hadn't thought of make for the best trips.
Indonesia's archipelago is surrounded with crystal clear blue bodies of water, abundant in a diverse range of opportunities to pounce on: start by taking your kayaking to Flores Island, up white sandy beaches, past deep caves and even sight-seeing some Komodo Dragons. And at nighttime, you can sleep on a boat in a nunnery in a local village inside an old volcanic caldera… just to name a few, of course.
10 – HIKING JAPAN 🇯🇵
This kayaking trip, comprising of four days of kayaking and two days of hiking, is set in the Land of the Rising Sun: Japan. While perhaps better known today for its incredibly dense, high-tech, advanced cities, Japan's wild side is also a wonder of the world; its forests, seas and beaches provide innumerable opportunities for a wide variety of activities. Kayaking round the coast of the Izu Peninsula, starting at Stumekizaki and ending at Hagachizaki Bay's red cliffs, you will be exploring Japan unlike most of the nation's other visitors.
While travelling around the Peninsula, catch a glimpse of its inhabitants: 300 Japanese Macaques. For more traditional Japanese stop-offs at night, stay at the local inns – known as Ryokans – where you can sleep on futons on the floor atop tatami mats, separated room-from-room by sliding doors, while being provided with your very own comfy set of slippers and robes for dinner.
---
Visit the Echio website and our Adventure Guide Magazine