35 Great Hiking Essentials 🥾
INTRODUCTION
As someone who likes the outdoors and a lot of organisation in his life, it would be ideal if there was a handy go-to list of itinerary to pack for an outdoor trip. Luckily, such a list has indeed been conjured up…
Just imagine: the night before your big expedition into the mountains, there is pile after pile of kit and clothing thrown over your floor and bed, frustrating you as you attempt to get it altogether neatly. You only need to organise what you have and know if you have everything that you need, preferably before it turns to midnight so you can stuff your rucksack full and get to sleep on time before an early-morning start.
Preparing for a hike should never be as stressful as that, however it is a common scenario for many in reality. Hence, a well laid-out tick list is what we've considered that you need to make sure that you pack enough items correctly. Obviously, no two hikes are the same; whether the timeframe, location or weather all vary widely, everyone's itinerary will vary to a certain degree, but the universal essentials will always be there.
---
HIKING ESSENTIALS LIST: WHAT TO TAKE HIKING?
Thus, here is our list of 35 essentials to take on your next big hike. 35 things on your itinerary is a lot, so this list has been divided up into sub-sections, which should not only make everything easier to organise in your mind, but should also help you organise things in your rucksack a bit more orderly. Bare in mind: it won't be necessary to always pack every single item on this list, and it will be up to you to choose what you should and should not take with you – it's always important to not weigh yourself down with a bag that's just too heavy!
For simplicity's sakes, we've assumed that the hike you'll be going on will be a day hike in decent, non-snowy weather – honestly, its safe to assume that anyone looking online to check if they have everything for their hike isn't an elite in the world of expeditions and hikes, and so isn't looking to go anywhere too challenging.
---
CONTAINERS (A.K.A. THINGS TO PUT THINGS IN)
Before you decide what you should and shouldn't take, it's important to know what you'll be taking these potential items in. Hence, let's start with the rucksack.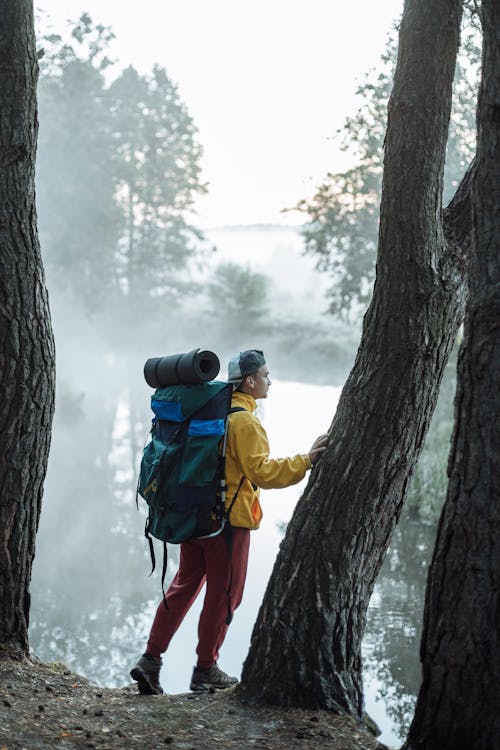 RUCKSACK – This isn't something that many people forget to take – you pretty much can't picture a hiker without a rucksack anyway. A rucksack is ideal in comparison to other forms of large container, simply because they keep everything tucked behind you while leaving your arms free should you need to keep balance or climb anything. Some important considerations to make when choosing a rucksack include knowing roughly how much stuff you will have in their in total – the more items you might need to pack, the bigger the rucksack will need to be. It should also be comfortable on you and be able to adjust to your body and needs. If you get a newer rucksack, wait until all of your items are packed before you adjust the straps – a rucksack will fit differently to you once it's stuffed full with tents and sleeping bags.
DRY BAGS – Unless you plan on going somewhere dry and warm, such as the indoors, then it will almost certainly be necessary to take a dry bag or two. More often than not, rucksacks are not naturally waterproof and most of their built-in rain covers are more akin to a mere flap to cover the top. In comparison, dry bags will give you the peace of mind that all of your kit is warm and dry, no matter how wet the weather is.
Check out this MuchBetterAdventures link for everything you need to know about dry bags.
---
CLOTHING TO WEAR AND CARRY
The clothes that you wear when hiking will alter how much you end up enjoying your hike overall by a long way. While you will not start off wearing every bit of clothing that you take straight away, there is always a chance that you could end up wearing it at some point. The aim of taking everything that you could need is not to end up using everything; it's about coming prepared just in case you might. How much clothing you take with you should reflect the weather that you will encounter.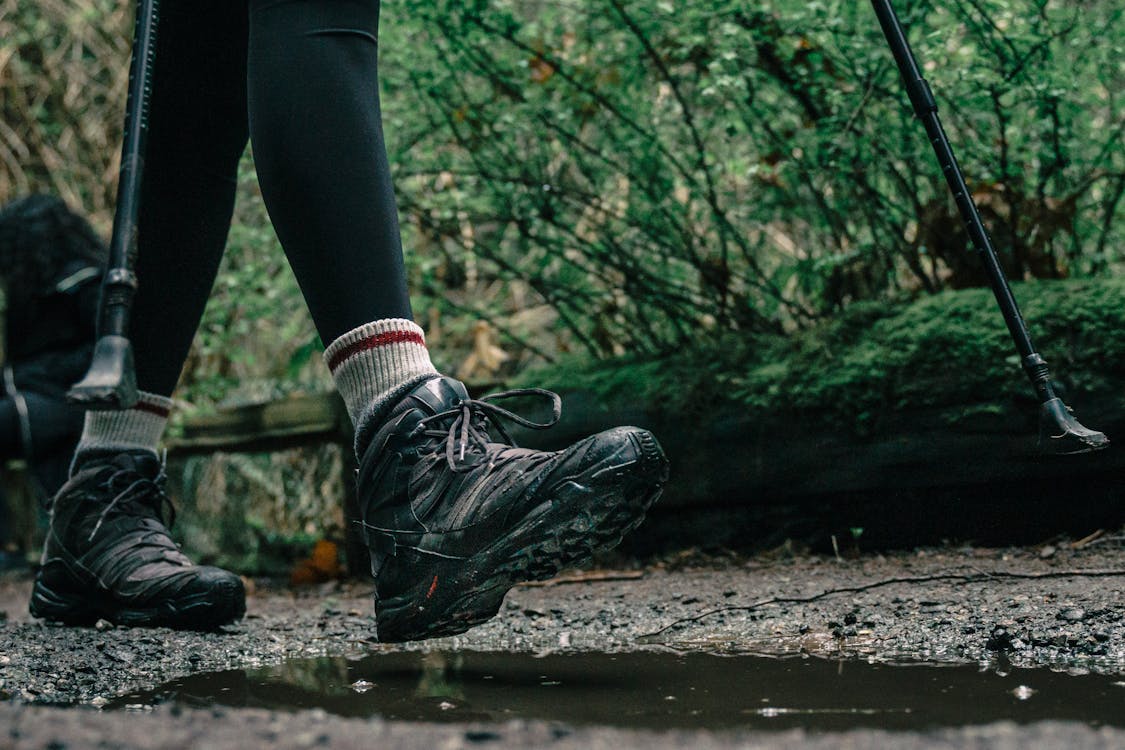 FOOTWEAR – Hiking involves primarily walking, so naturally, choosing the right hiking boots should be a high priority. It's not uncommon to see hikers in more regular shoes, but this doesn't make it OK. Should you not be use to walking on the types of uneven terrains that you're certain to encounter on a hike, a pair of hiking boots will give you the adequate ankle support that you need. The top priorities to consider with boots should be their sturdy build, overall comfort and grip.
SOCKS – Ideally, if you've already chosen the ideal pair of hiking boots, then you shouldn't need to pick the ideal socks – you should have been wearing them when you tried the boots on anyway. Like with the shoes, it is still possible to hike in regular socks, however you will certainly appreciate the additional cushioning of hiking socks. One pair is OK, but some people do often wear a thin pair of regular socks underneath, which aids in preventing blisters. If you're ever unsure, try on both your hiking socks and boots with just one layer of socks and see how it feels.
TROUSERS – Or "pants", for my American readers… Trousers worn on a hike need to be lightweight, easy to move in, and quick to dry. The polar opposite of all of these qualities are, of course, jeans – THE last pair of trousers any hiker would want to see you in. Leggings that are not specifically tailored for runs or outdoor cycling are very likely not good enough as well. If the weather is hot enough, a pair of shorts is entirely acceptable, so check where you're hiking and what the weather will be like, and if there are any local ticks or midges, before settling on shorts or trousers.
UNDERWEAR – This item of clothing likely doesn't come to mind when talking about hiking. If it's your first time hiking, just wear your usuals and see how it goes. Should you wish to take it up a gear, you can always try "active underwear" another time. Most important is your comfort, so specific underwears will be more or less comfortable for each individual.
BASE LAYER – This is a fancy word for the layer of clothing that you put on your torso first, usually in the form of a short or long sleeved top. Like when choosing trousers, your base layer should be comfortable, easy to move in and quick to dry. Its thickness and warmth should depend mostly on the weather you'll experience. It's best to stay clear of any cotton fabric base layers, and to choose a breathable shirt that will wick the sweat away.
FLEECE – On top of your base layer and under your jacket, the fleece is the ideal mid-layer for your torso when out on a hike. For colder weather, a thicker fleece is obviously ideal, and for warmer weather a micro-fleece.
WATERPROOF JACKET – This is of course not a necessity if you'll only be expecting dry weather. However, you sometimes never know when it might rain, and a waterproof jacket can make a bad experience turn into a good one – no one likes wearing wet clothes.
WATERPROOF TROUSERS – If you are hiking for multiple back-to-back days, waterproof trousers are especially useful. Like with their jacket counterparts, they are useful for keeping you dry when it rains, but waterproof trousers can keep you dry when you're walking through long grass too. Preferably, get some waterproof trousers that have long leg zips so that they are easier to take on and off over your hiking boots.
HAT – A beanie for the cold, or a peaked hat or cap for the heat, is always worth packing. Hats worn for the cold should cover your ears, and both types should be comfortable enough, while not being able to get blown from your head due to a strong gust of wind.
GLOVES – Of course, gloves keep your hands warm when it's cold, but they can be equally as useful in other warmer weathers; strong winds can come with any temperature, especially the higher up you are, and this can sometimes be worse on your body's extremities than a mere chill.
BUFF – Should you already own everything list above, then the only part of your body that will be left exposed will be your face. Unless it's really cold, windy or snowy, you should be fine without a buff, which is essentially just a fabric tube long and stretchy enough to keep both your face and neck warm – like a scarf that won't be blown about in the wind.
GAITERS – This is an optional extra, depending on your hike location. Gaiters are essentially water resistant cuffs for your boots, so they're very useful when walking through boggy terrain, peats or deep snow. With gaiters, you will be able to get your boot back up from the awkward terrain without it being full of unpleasant material from below.
---
VITAL HIKING EQUIPMENT
Hiking vitals don't need a tonne of explanation, but they are crucial.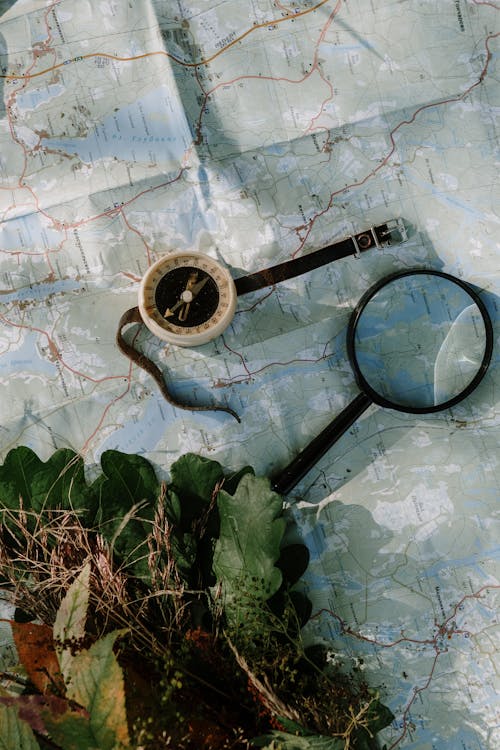 MAP – It is always useful to take a map with you, especially if you don't have a guide with you and/or you're in unfamiliar lands, but it's always handy to have one with you just to practice your navigation skills. Much of the Western world provides easy to find, buy and use maps.
COMPASS – A map's number one companion is the compass. Without a GPS, it's a handy tool to know which direction you're facing, and thus ultimately where you're going.
FOOD – Without food, you will get uncomfortably hungry, lack energy and ultimately have a bad time. Simple. For a day's hiking, the minimum amount of food you should take is lunch and a few snacks. Remember that different types of foods give your body different things: proteins will repair used muscles, carbohydrates will give you energy, and fats will insulate you and provide a greater storage of energy.
WATER – Either contained in a bottle or reservoir, you can't last long at all without water out on a hike. Actually you can't last long without water anyway. For your hike, it's easy to pack water into either reusable bottles or a water reservoir, like a Camelbak. Water reservoirs like the Camelbak have tubes that let you sip the water as you walk. The only trouble is knowing how much water is left when it's on your back.
---
EVEN MORE HIKING EQUIPMENT
It's up to you to choose which item out of this section is the most important. How long you'll be out for and how much you are willing to carry on your back will determine how much of these you'll end up taking. Should you not bring any of these items, chances are you'll be OK, but you might thank yourself for taking them anyway.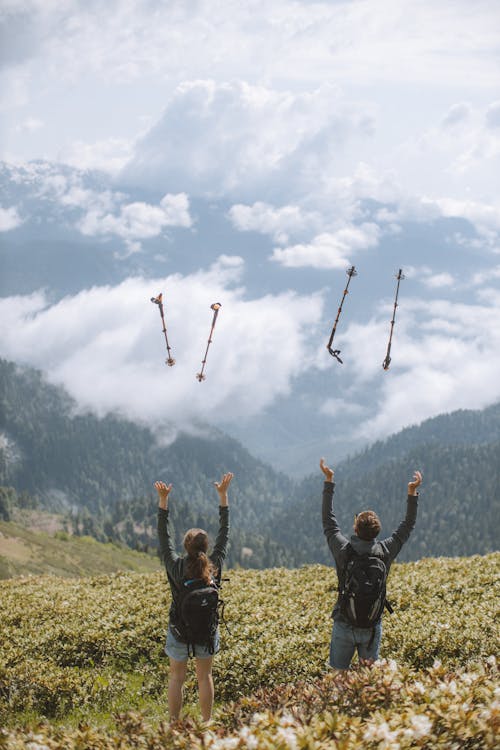 TREKKING POLES – It's definitely possible to go hiking without hiking poles; they are essentially just aids. However they're useful if you have muscle or joint issues, and some people refuse to hike without them. Otherwise, they're just generally useful at taking some weight off of your knees, and can help you use an extra set of muscles to get up those steep hills.
WATER FILTERS – Should you run out of water, either on a hot day or when you're out on a hike for multiple days, you might be tempted to take some local water. But since it will almost certainly be undrinkable, you'll need a bottle filter, or some sterilisation tablets.
TRACKER – Again, these will be less important to have on you if you're in easy and familiar territory or are with a guide, but they could be very useful when you're out on a solo hike. A GPS device of some kind, which most people have nowadays in their smartphones anyway, will be handy should you get lost and require a rescue team.
MONEY – Unless you're wild camping, it's a good idea to take a little bit of money, cash or card. It may come in handy in an emergency. This could be a food emergency, or you could use a telephone box in case your phone dies.
TORCH – The majority of day hikes obviously won't require the use of a torch, however some day hikes can start and finish in the dark. You could be having an alpine start prior to the midday heat kicking in, or you could decide to take a stroll in the dark to stargaze, or perhaps you want to look around a big cave. Other hikers just tend to arrive at their designated campsite a little too late after planning an overly-ambitious, long route, and in winter months it can get darker quicker than you expect, so it pays to be prepared.
PHONE – Modern smartphones can basically do everything you'd ever need when out on a hike now: call people in an emergency, track you and make you easier to find, act as a flashlight, access the internet and, most importantly, take pictures for an instagram post. Most important though is to make sure at least one person in your team has always got enough battery, should a proper emergency ensue.
PEN + PAPER – This could also just simply be a notepad and pencil, useful if you want to journal your day towards the end of it. Some people may want to pass the time to sketch something out during their lunchtime. For emergency uses, it might be useful to write some things about a potential casualty too.
---
EMERGENCY KIT
Hopefully, you will never have to use anything in this section. However, you should absolutely bring everything in this situation regardless. They are the items that will catch you out should you not have them if/when your hiking experience flips on its head.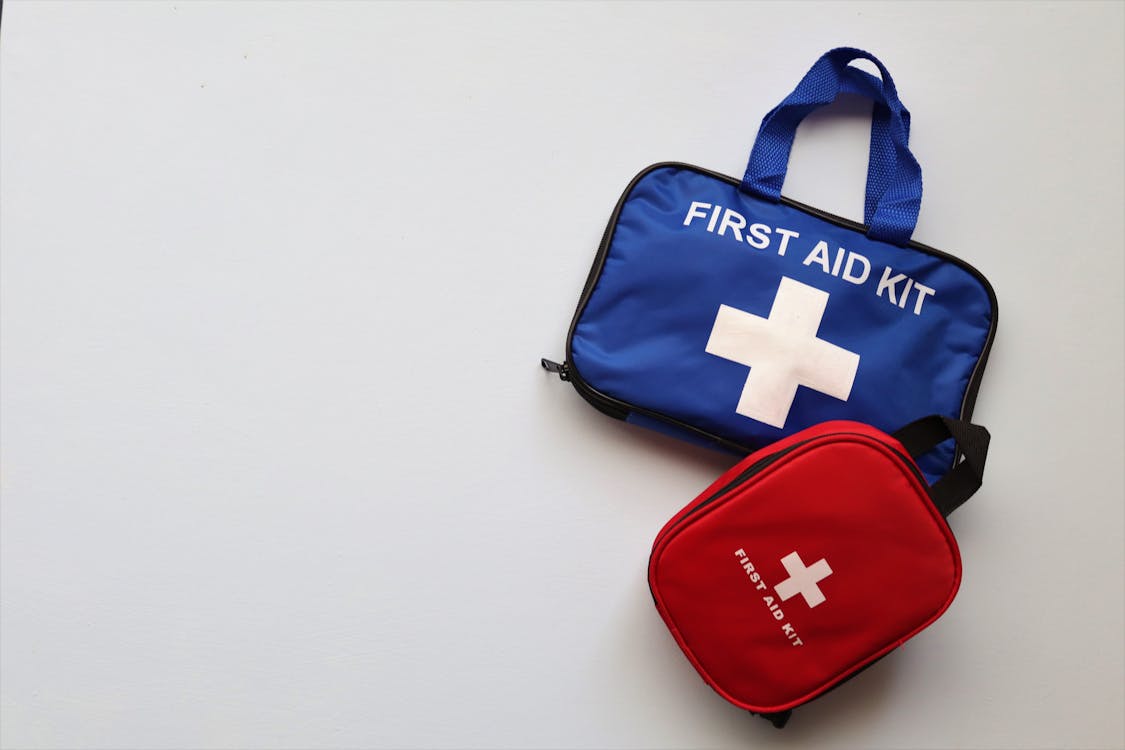 FIRST AID KIT – Even guided hiking groups should absolutely take at least a small first aid kit; they have the essentials that you might need in an emergency. If you're filling your own first aid kit, take plasters, pain relief medication and any personal medication that you and your group members will need. Pre-packed first aid kits specifically made for hiking do exist and come in various sizes, if you'd prefer to own a more comprehensive first aid kit.
STORM SHELTER / SURVIVAL BAG – Storms can hit at the most unwanted of times, so it's best to be prepared, which will mostly involve sitting in one area as you assist the casualty in need while waiting for help. Either an individual survival bag, or a group shelter carried by a group leader, is ideal to have in this kind of situation.
EMERGENCY SNACKS – Whilst you and your team are waiting for help in an emergency, that help could arrive a lot later than you would hope for. In the meantime, it would be handy to have some extra snacks at hand. More than anything, it can boost the morale for the team in such a dire situation, and you'll thank yourself for bringing some.
WHISTLE – Useful for attracting attention with noise at a fair distance, most hiking rucksacks do tend to have whistles built in with them on the chest strap nowadays, given how small but useful they are. However they aren't really the best whistles in the world, so it's probably a good idea to bring your own, better whistle along, ideally a plastic or metal one without a ball on the inside of it.
SPARE CLOTHING – Should you get soaked by rain or rip and damage your clothes on something, you'll be eternally grateful that you brought spare clothing with you. At the very least, bring a spare top and pair of trousers, and some underwear and socks. Many that go hiking ultralight often won't bring spares, but it's a necessity for multi-day hikes.
---
OPTIONAL EXTRAS
At last, here are the optional extras – not necessities by any stretch, but things that should make your hiking experience a lot easier and more pleasant to bare.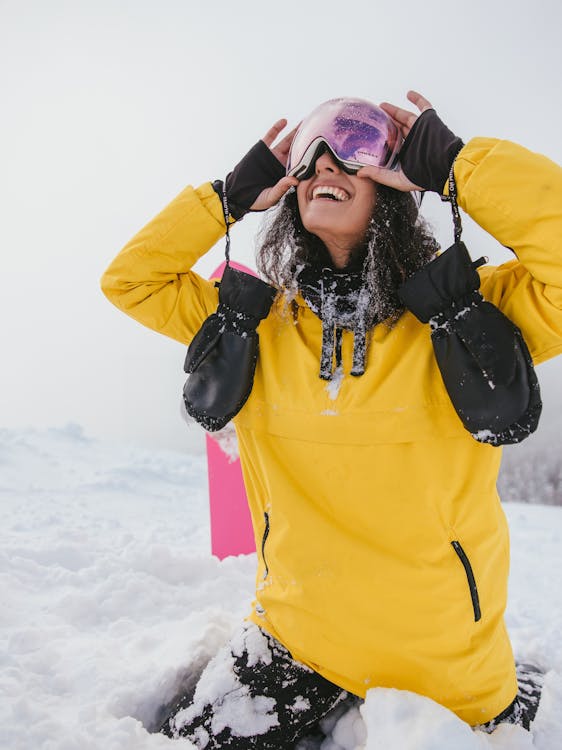 SUN GLASSES / SNOW GOGGLES – It goes without saying, but it's useful to be able to see when out hiking. Therefore, some form of eye protection would be a good addition. Of course, depending on the weather, you'll want to take either a regular pair of sunglasses or some snow goggles, so you can soak in those views without needing to awkwardly squint.
LIP SALVE – Your lips can get surprisingly dry surprisingly quick in both the cold and the wind. Just a small and simple tube of lip salve can eradicate that issue, no problem. For summer hiking trips, you can even get lip salves that protect from the sun as well, which would be handy if your hike is at high altitudes or on the snow.
SUN CREAM – Throughout most hiking experiences, you won't be spared much free time from the elements of nature around you; even in nice, sunny weather, you can be prone to sunburns. To quickly solve this issue, especially for those out there who are more prone to getting sunburnt quicker, a high-factor tube of sun cream would be very handy. Brands that last for several hours should do the job of keeping you safe from the sun for most of the day.
INSECT REPELLANT – Either in spray or wipe form, an insect repellant of some kind will make your hiking experience far less irritating. (From personal experience, I can't promise that they won't end up attracting MORE insects, but I still recommend taking some anyway.)
PEN KNIFE – Ideally a Swiss Army Knife, pen knifes are multi-purpose, handy-to-have tools that can cut things to size, open cans, screw screws to fix things, slice food… You may surprise yourself as to how often you end up using a pen knife when out hiking. Pen knifes all vary in size and how many tools they have.
---
Visit the Echio website and our Adventure Guide Magazine