6 Essential Camping Essentials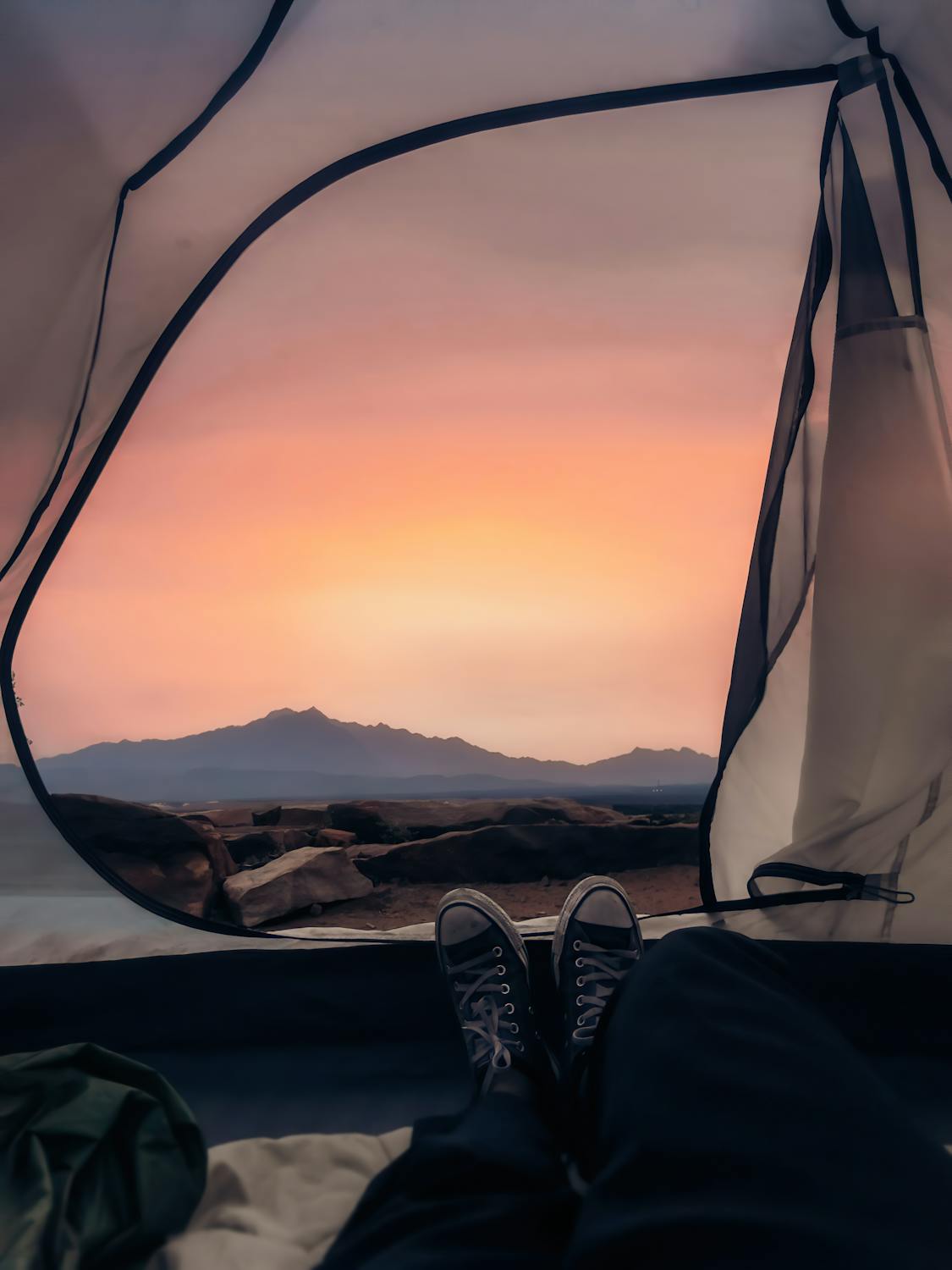 It's finally getting warmer so, now you want to brave the outdoors. While camping adventures can be the time of your life, they can go badly – quick. That's why we will run you through the essential camping essentials to get you back in one piece and with one big smile.
6 ESSENTIAL CAMPING ESSENTIALS
While you can go camping in luxury, a 'friend' once bought an 'essential' shoe-horn camping, that's not really our style. So, we really are trying to get the barebones of camping so you can finally get close to nature.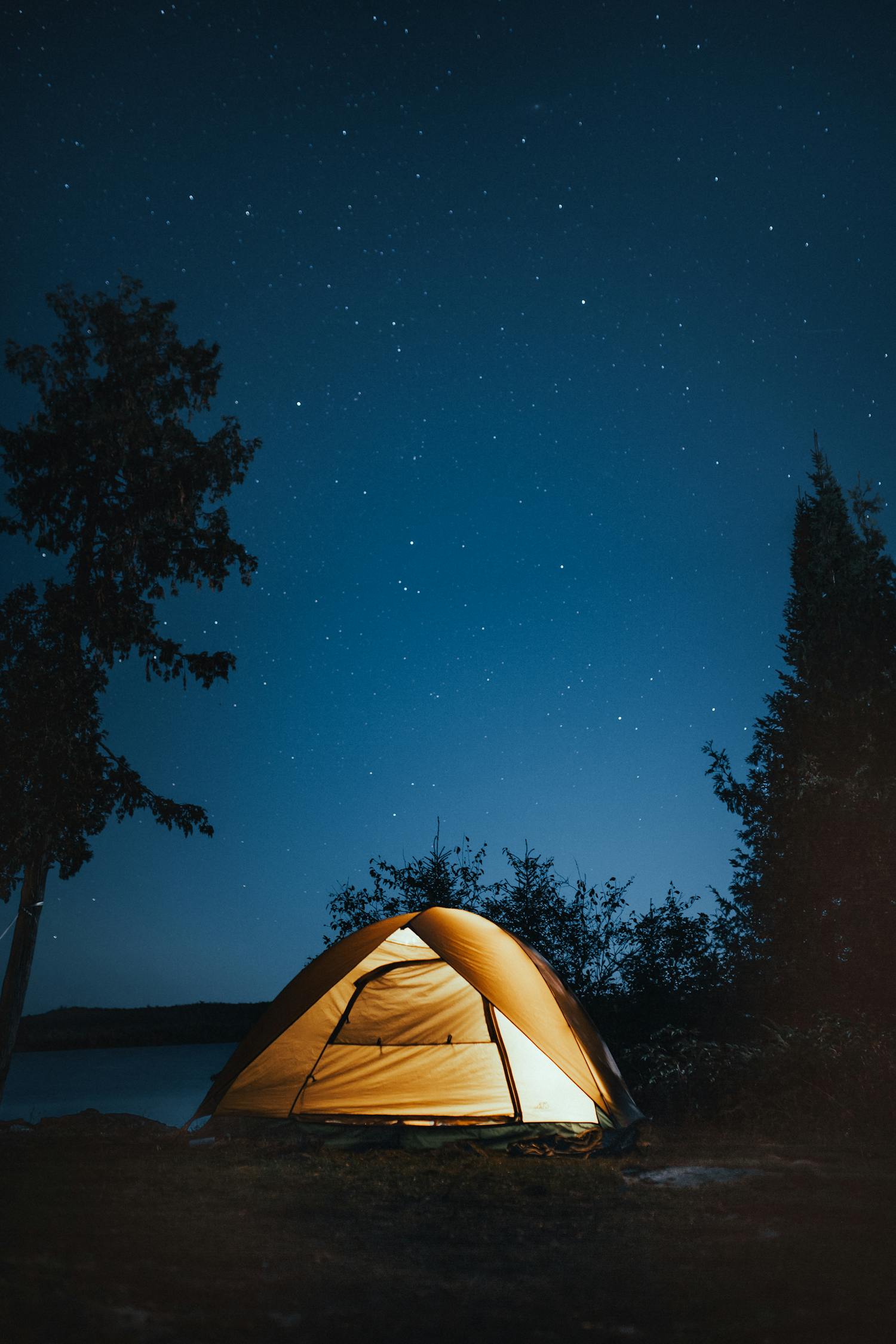 CAMPING ESSENTIALS 1 – A TENT
Yeah, you probably already had this one. It's pretty definitional to camping, without it you're really just sleeping on damp floor outside. If you're thinking "ah-ha, but what about a bivvy bag, or hammock!", while that does fall in the remit of outdoor sleeping, it's not really camping. Its bivvying, or … hammocking… I'd like to say hammocking.
When getting your tent, make sure you check:
Is it the size right – it's got to fir everyone but, not have enough room for Yoga.
It is waterproof – nobody likes camping in a pond.
Is it windproof – this is especially relevant when camping high-up or in open spaces.
CAMPING ESSENTIALS 2 – A SLEEPING BAG
A tent is all fine and well, but there's a reason we invented house. It turns out tents are pretty cold! That's where the sleeping bag comes in. If you do intend on sleeping in your tent, the sleeping bag is your best friend. Even in the Sahara Desert, Moroccan Berbers and all camel headers use a sleeping bag. You really won't have felt cold like it so, make sure you check the weather before your adventure.

CAMPING ESSENTIALS 3 – A ROLL MAT
A roll mat is a thin roll of foam (or luxurious inflatable mat if you're lucky). This may seem unessential but, it is the only thing that will project you're from the cold, hard ground. Sure, the tent has you covered from the wet and the mud but, to ensure you wake up without the need of a spine specialist who also has hypothermia medication, you need a roll mat.
CAMPING ESSENTIALS 4 – FOOD AND DRINK
Look, this is just an essential. Camping or not, if you're reading this, you eat and you drink – or you are a medical marvel. You could eat and drink before you leave, then rush back from the wilderness for breakfast but, you would miss so much.
The relief of a hot drink, or something stronger, is much more poignant and pleasuring when you are out in nature. Also, to get to remote areas best for camping, that will require a larger walk. Walking with a small house on your back is hungry – and thirsty – work, trust us. Finally, when out in the wilderness, it is always best to have emergency food or water as you never quite know what could happen!
Convinced? Good. Please bring food and drink, it is essential. The type of food or drink is up to your though, something hot may need a camping stove, fuel and lighters. You may even want cutlery to bring civilization to your trip. A flask is good to keep drink warm too.
CAMPING ESSENTIALS 5 – CLOTHES
Well, clothes are pretty important in all situations, you're probably wearing them now. As, in most cases, you're unlikely to go anywhere without them, clothes have sneaked their way into being a camping essential. Lucky clothes.
However, there are some clothes to bring that are better than others. Warm ones that keep your try is a good start, nobody likes stomping through nature with cold wet feet. Various layers of clothes are important here as temperatures change dramatically, especially when you are walking. A change of base-layer clothes like a top, bottoms and socks is also a good idea in case the heavens rain down on you and you don't like sleeping in a personal wet bog.
Good shoes also cheat their way in as clothes. A pair of sturdy, wet resistant shoes are vital to offer ankle support. You don't want a twisted ankle miles away from help, seriously – you don't. Finally, the shoes you wear will get dirty, so wear white shoes at your peril.
CAMPING ESSENTIALS 6 – A BAG
Well, what else will you put the tent, sleeping bag, roll mat, spare clothes, food and drink in. Not much really to say here other than, like most of the essentials, make sure it is waterproof. Also, it must be big enough to fit everything in, it is essential after all. An extra tip is to look for bags with various straps, this can displace some of the weight from your shoulders, which I am sure the shoulders will thank you for.
Carrying all the essential items will be physically demanding, this is why you need to make sure you are ready for the job!

CAMPING ESSENTIALS CHECKLIST
A Tent 
A Sleeping Bag
A Roll Mat
Food and Drink
Clothes
A Bag
3 BONUS ESSENTIAL CAMPING ESSENTIALS!
We think the above 6 things cover the absolute camping essentials. These next items are things that we think people still might call essential, but you probably can manage without. It might be less fun or less comfortable, but you'll survive.
BONUS CAMPING ESSENTIALS 1 – A TORCH
It gets dark at night in the wild, like really dark. So, if you need to do anything after nightfall then the ability to see is a good start. While your eyes do get somewhat adjusted to the dark, this won't be enough if you need to cook or pitch the tent in the dark. While any torch is better than nothing, a headtorch is the best so you can still use both hands!
BONUS CAMPING ESSENTIALS 2 – A MAKE-SHIFT PILLOW
There seems to be a bit of a taboo in the adventure world when it comes to pillows. No self-respecting adventurer is going to take a pillow camping but, there is no denying that pillows dramatically improves the quality of your sleep, you do usually use one after all.
So, what to do? Some people use a drybag part-filled with air to rest their head on or even buy tiny, down camping pillows. But the fastest, easiest and cheapest way of making a pillow without having to carry extra things is to use clothes. Hopefully the waterproofs have done their magic so your softer clothes – like a fleece – can do the job.
BONUS CAMPING ESSENTIALS 3 – A WATCH
You might not have seen this one coming but hear us out. Knowing the time is vital for understanding how long it is before night-time. It may also be handy to know what time you have woken up from your … peaceful … nights sleep. So, you need a way of telling the time.
When you're camping somewhere remote, you cannot beat a classic watch for telling the time. Sure, your phone can do the job, but you probably want to save its battery by having it turned off overnight – or get away from it all together. If you get a digital watch, it can even wake you up in the morning too.