7 Wild Camping Tips You Need To Know
Wild camping may well end up being the best thing you ever do – but it is a bit daunting to start with. In this article, we will put those fears at ease with 7 of the best tips for wild camping.
But, before we dive into the trips, it might help to understand the very basics…
WHAT ON EARTH IS WILD CAMPING?
Well, you probably know otherwise you wouldn't be here, but we did say we will start with the basics. Wild camping refers to any type of camping outside of an ordinary campsite or – I guess – your back garden. The experience allows you to find beautiful spots and stay there, without hordes of others camping right next to you. It truly brings you to nature's door.
IS WILD CAMPING LEGAL?
So, now you know what wild camping is, you need to know where you can do it. We have done the research, so you don't have to!
In the United Kingdom, wild camping is legal throughout Scotland as there is a 'right-to-roam' (thank you Land Reform Act). However, there is an Outdoor Access Code to follow to make sure the wilderness stays wild, and the environment stays safe for years to come.
Essentially you should 'leave no trace' of your time in the wild. While this code is for Scotland, being respectful to the environment is vital for any wild camper.
Elsewhere in the UK, wild camping is a bit trickier. There are, however, a few places where it is legal such as: Dartmoor, Brecon Beacons, Exmoor, Snowdonia and the Peak District. Each place has slightly different guidelines so, it is best to refer to them. In remote areas, wild camping is often accepted provided you leave no trace.
Similar laws exist in France, Portugal, Spain and Ireland, while in Germany and Italy wild camping is less tolerated. Scandinavian nations are your best friend for wild camping in Europe as there is a right to camp on open land provided you are more than 150m away from inhabited houses and it is only for one night.
North American land is often complexly owned so, the best approach is to find an area you want to camp and research it on a case-by-case basis.
New Zealand and Australia often encourage wild camping! However, certain areas are monitored closely as a protected environment.
While camping laws vastly vary, one thing remains common to everywhere. Wild camping must be done with respect to the land, leaving no trace is highly important. Now we have the basics, the tips and tricks may begin…
WILD CAMPING TIPS AND TRICKS
TIP 1: RESEARCH YOUR WILD CAMPING SPOT
This has been already alluded to however, it should be explicit. There are three reasons for researching.
Firstly, the legality of wild camping is complex, and you need to make sure a fine won't come your way after your night in the wild.
Secondly, when research the legalities of an area, try to pick up other tips about the land from local experts. This is a great way to ensure the wild camping experience is smooth and safe. Local knowledge may be the only thing that stops you camping in an area with dangerous animals or on a beach with a surprisingly rambunctious tide…
Finally, it is important to understand the area to make sure it is beautiful and as wild as your dreams desire. It would make for an awkward story if from your wild campsite you could see a McDonalds.
TIP 2: TAKE YOUR FOOD WITHOUT THE PACKAGING
The is helpful for several reasons. Less packaging means more space in you rucksack while also ensuring you cannot leave litter at the campsite. Moreover, wildlife like animals or birds often become offended when you do not share your food. This could well lead to some eventful intruders in the night. So, unless you want a rude awakening, storing your food in a sealable container to reduce smells may be the best way to go.
TIP 3: BRING A GAS CAMPING STOVE
You're in the wilderness. Castaway. So, what do you do? Hark back to the dawn of humanity and light a big open fire of course!
However, this dream can quickly become a nightmare.
Open fires can easily spread, especially in windy conditions. This can lead to wildfires and devastation for the surrounding wilderness. At a minimum, the open fire will lead to scorched earth where the fire was. So, while it may sound idyllic, please bring a gas camping stove instead. The wildlife really will thank you.
Some gas stoves are also windproof and regulated to ensure they are reliable in all conditions. This is great for cooking hot food after a long hike, or for your morning coffee.
TIP 4: WATER FILTERS ARE ESSENTIAL
Hiking to wild areas is thirsty work. Your body is therefore going to need a lot of water but carrying that amount of water is tiring and takes up a lot of space. So, you need a way of getting water while wild camping.
A filter allows you to get water from any source and drink it with the sweet safety of knowing you won't need a drip to the hospital. This really is invaluable.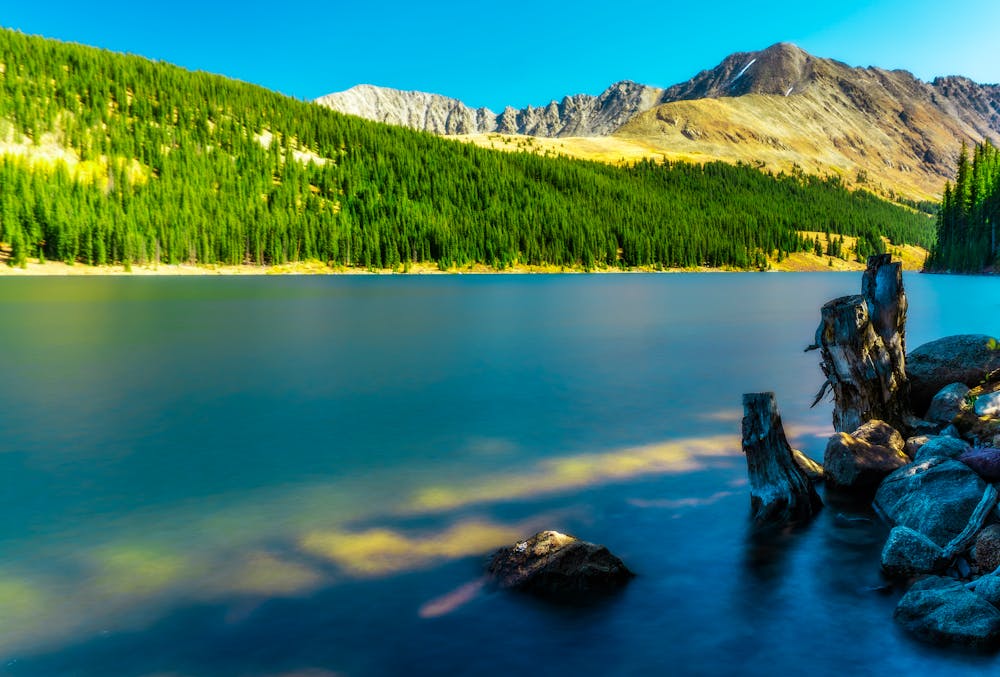 TIP 5: THE TOILET EXPERIENCE …
Well, it's been coming. The toilet tip. This is a problem the wonders of modern life have solved. And after being toilet trained, you really hoped there would never be an uncomfortable toilet experience again. But when you need to go, you need to go.
A number two in the wild has wider consequences. Leaving without a trace is a responsibility that extends to toilet paper, so you really shouldn't leave it in the wild. This means taking it with you as it takes a long time to decompose. The best trick here is to bring a sealable and degradable bag for the paper you use. This ensures the smell is kept to a minimum and everything is as hygienic as possible.
An additional tip here is to make sure you go at least 50 metres away from a water source to ensure the safety of all wildlife.
TIP 6: YOU CAN'T BEAT A MAP AND A COMPASS
While phones are great for navigation and emergencies, the battery always seems to ironically fall the second you need it. Yes, you could get portable chargers however, for reliability and to ensure a safe way to go wild camping, a map and compass is highly important.
Learning map skills is an exciting skill to develop. It is also all part of the fun to navigate without technology, it makes the sense of pride – or shame – all the greater. Although, fair warning, maps can lead to their share of arguments. I will never forgive my friend for imploring us that the only way out of the campsite was through miles of bog, only to find other actually dry campers saying they "took the scenic woodland trail".
TIP 7: TRAVEL LIGHTLY
Deciding what you bring when wild camping can be difficult. While you may want some home comforts, we recommend only pack the essentials. Every additional item you bring may not feel heavy at the start of the day but, we can assure you, by the end of the day you'll regret it all.
Pack with lightly, with the heavy items at the bottom and items you're likely to use at the top. This way you'll save time, and your back will thank you. If you're unsure about what to pack, a helpful guide can be found here.