SCRAMBLING – A Simple Beginner's Guide in 6 Steps
You can see the summit of a mountain you've been climbing for some time. Everyone has told you that the views at the top are some of the best you'll see. It's a perfect day, not a cloud in sight. You cannot miss this opportunity.
But, wait. What's that? A GIGANTIC LOOSE FIELD OF SHARP ROCKS.
Ah.
This is where you think, " I probably should have prepared for not simply walking but using other skills".
Scrambling is a step up from usual hiking. It has a more advanced physical and mental challenge, but this very same challenge really can inject an added element of reward and excitement.
You just need to make sure you are up for this challenge as there can be danger. So, to get you out of your comfort zone safely, we will guide you through the basics of scrambling.
WELL, WHAT IS SCRAMBLING?
Scrambling is a fairly broad term. At its core, scrambling describes the action of using both your feet and hands to climb a mountain. Now, this definition means going on all fours on a flat path counts as scrambling so, a bit of nuance is required.
Scrambling is often seen as the child of hiking and climbing. It often involves navigating bigger drops, doing bouldering climbs and negotiating more difficult terrain.
It may be helpful to show a type of terrain that would involve scrambling…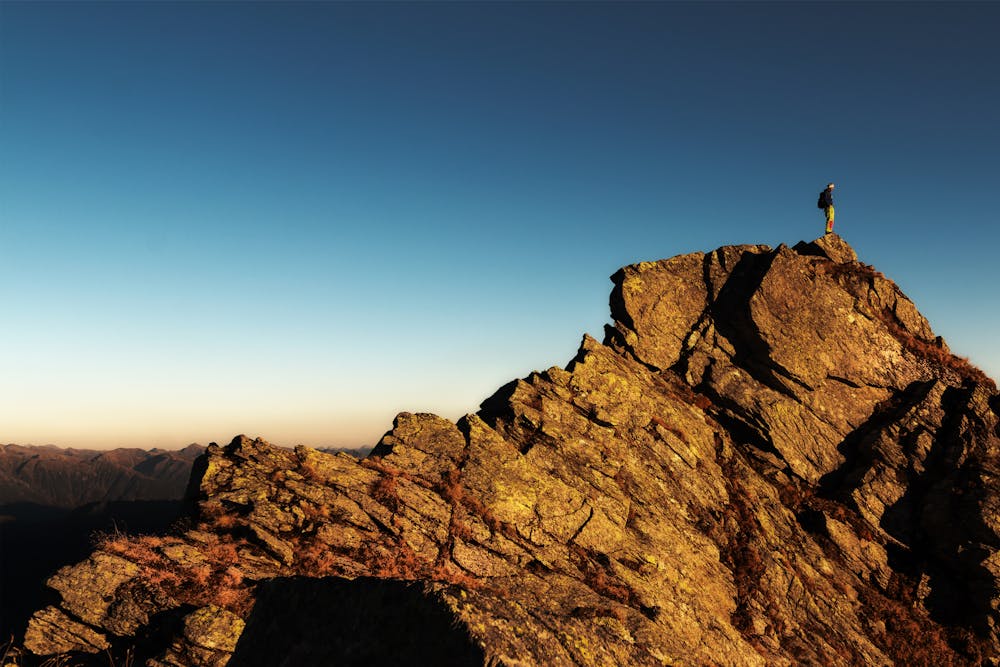 As you can see, no ropes are necessary so it's not quite climbing. But, walking up it without the use of hands would also present a difficulty. So, we've got scrambling.
HOW SCRAMBLES DIFFER?
It should now be apparent that scrambles come in all shapes and sizes. To differentiate between them, they are given a grade between one and three. One is the easiest and three is… a challenge.
Grade One – here you'll find the easiest scrambles. Often there is good hand and footholds with limited exposed sections or drops. This is definitely where a beginner should start, unless they have serious experience with climbing (although the lack of ropes can still remain daunting).
Grade Two – here the scrambling becomes more technical, with less obvious holds and routes. At points the route can stray into simple rock-climbing, so handholds become more influential. There will also be greater exposure to danger on this route.
Grade Three – well, you definitely shouldn't start here. This is effectively an 'easy' rock-climbing route. There will be large drops and serious exposure so, you need to be comfortable with scrambling to even attempt this. There is serious danger on these routes if you are not careful. A rope may even be required in case of a fall.
However, as there are only three different grades, you can find huge disparities in difficulty even if both scrambles share the same grade. This means, for the uninitiated, researching particular routes for beginners is key.
As a quick example, Crib Goch in Wales is a grade one but, in reality, it requires a high level of scrambling skill and experience.

WHAT SCRAMBLING GEAR IS IMPORTANT?
We'll start with the most important thing to get right – a good pair of hiking boots. On the first few scrambles at an easy grade one, you may be tempted with trainers due to the easier footholds giving you plenty of grip. This is not advised.
Firstly, it is important to get experience using grippier boots and 'break them in'. Secondly, boots that are stiff and grippy become important on thin edges where you need to rely on the tip of your boot. The stiff and grippy nature of boots also help to prevent injuries, as ankle injuries can be common with looser shoes.
In addition, due to the prevalence of ankle injuries, boots with ankle support become even more important. You may jam your foot between cracks during the route, and during the undulating and steep route, it becomes difficult and tiring to constantly ensure your ankle it okay. This is where the ankle support really helps, the last thing you need is an injury at the top of a mountain.
For clothing, you'll want something flexible, light and not too hot as you'll quickly work up a sweat. This advice, of course, depends on the specific weather. However, for your trip, it is best to bring clothes that match every weather eventuality.
Due to mountain's specific topography, weather can change suddenly and unexpectedly. Even if you have checked the weather before going, you should still prepare for the worst. So, bring clothes that are lightweight, waterproof and windproof. Windproof clothes are vital when doing any exposed scrambling as you can face heavy winds.
Finally, for routes that are loose with 'scree', rocks from people ahead of you can slide down to you. If the route is also sufficiently steep, this scree can fall on your head. If a route is like this, a helmet is strongly advised. Head damage really isn't plan A…B or C.
PRACTICE MAKES PERFECT
Before you go on your first scramble, some experience with low level bouldering is highly beneficial. If possible, go to a local crag with small boulders and practice there. This can test your confidence with footholds, handholds and harden your new gear. This will make you feel more comfortable and confident when you attempt the real thing.
If the above is not accessible, there should be a local climbing centre which can help with rudimentary skills. The bouldering section will give you confidence without ropes, illustrate your level of fitness and help you improve your scrambling technique. If you need help with fitness, a helpful guide can be found here.
Some experience of climbing is important before properly scrambling. Due to the nature of mountains, scrambling can be a high-pressure environment that you should be relatively comfortable with before entering.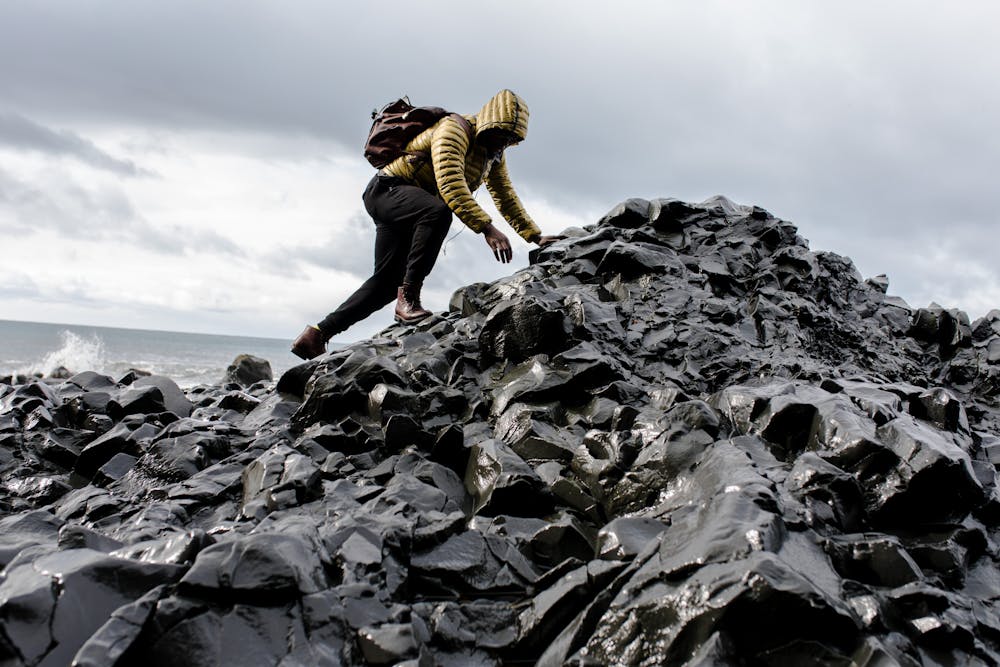 THE RIGHT ROUTE
The first route for a beginner should be a grade one unless you have a high level of rock-climbing experience. But, due to the broad nature of the grading system, it is important to research the route to see if it is accessible.
We have three suggested routes to get you started:
Firstly, Striding Edge on Helvellyn in the Lake District. The scrambling here is relatively straight forward however, the exposed ridge and views of drops will certainly get you used to the high pressure environment of scrambling.
Next is Carn Mor Dearg on Ben Nevis. This again has relatively simple climbing while giving you access to amazing views. It is also pretty nice to take the road less travelled to the highest point on our shores.
Finally, we have Tryfan in Snowdonia. There is about 600m of exposed ground to cover here so is not too long, however it comes with amazing views and a solid place to start your scrambling career.
Of course, there are plenty of other routes for you to explore if those routes aren't to your fancy. Just google the place where you want to scramble and go from there.
CHECK THE WEATHER
You've now got your route and have had experience, either indoor, outdoor, or both. You've got your equipment, a smile on your face and calmed nerves. You are ready for your first scrambling experience.
The final imperative thing to do is check the weather, it is the UK after all.
Wind and rain can quickly turn an accessible route into a dangerous one. Often the scrambling sections are exposed and dangerous, so wind is particularly felt in ways you may not have experienced before. Moreover, when areas are wet, the terrain can become loose and more difficult to grip and see properly; this all makes technique more difficult. Finally, the miserable weather can just make the experience depressing and unenjoyable, which is not what we are after on the first scrambling trip!
So, when there is plenty of rain and wind on that day, may save the scramble for a summer day.