BIKEPACKING: A BEGINNER'S GUIDE TO 11 ESSENTIAL PIECES OF KIT
Bikepacking is increasingly common. For the uninitiated, bikepacking is when you ride somewhere with a tent or bivvy bag and sleep in a distant remote area only a bike can get to.
As it has become progressively common, the equipment for bikepacking is now light and durable, meaning just about anyone with decent bike skills can do it!
However, going on your first bikepacking adventure may be a little daunting. That's why we will run through the essential kit and best tips to ensure your exploration runs smoothly.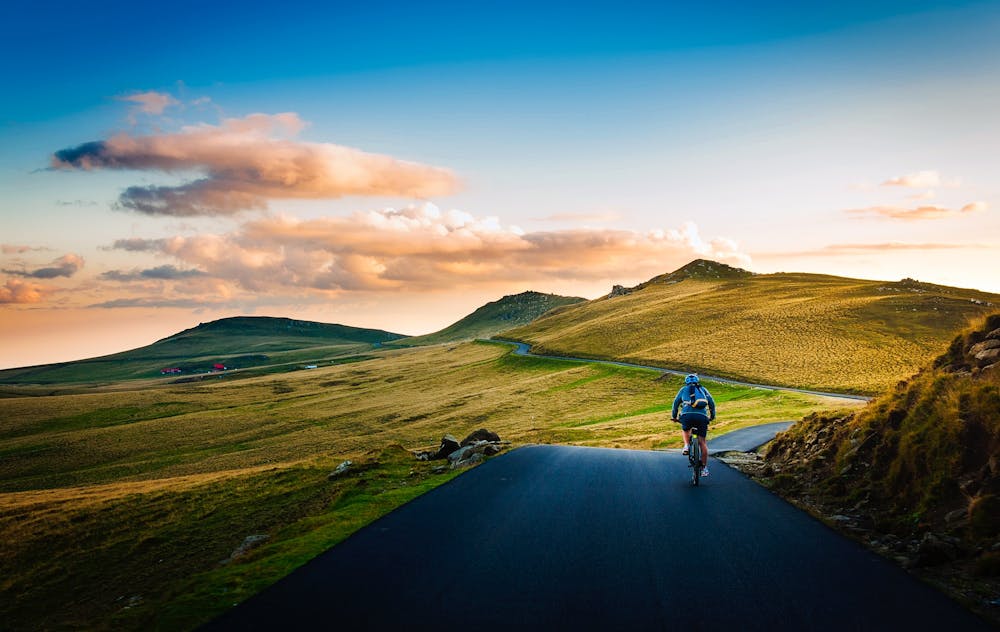 WHAT BIKEPACKING EQUIPMENT IS ESSENTIAL?
The more you bring, the heavier it will be. As bikepacking is all about simplicity, those who bring masses of kit may be unable to get to the remote areas they dream of – or even struggle to carry it all!
So, it is best to only pack the bikepacking essentials, but what are they? Here's a little checklist to help you out:
 …The Bike. I mean… obviously.
Bike puncture kit (like a pump, tyre levers, spare inner tubes etc.).
Appropriate bike lights and a head-torch.
Appropriate cycling clothes, including a helmet.
A change of clothes and waterproofs.
A tent, or a bivvy bag if that's your thing.
A sleeping bag.
A camping mat.
Pan, stove, gas and something to cook; you'll have earned it!
A map and compass, or phone and portable charger.
A lightweight bikepacking bag to carry it all in!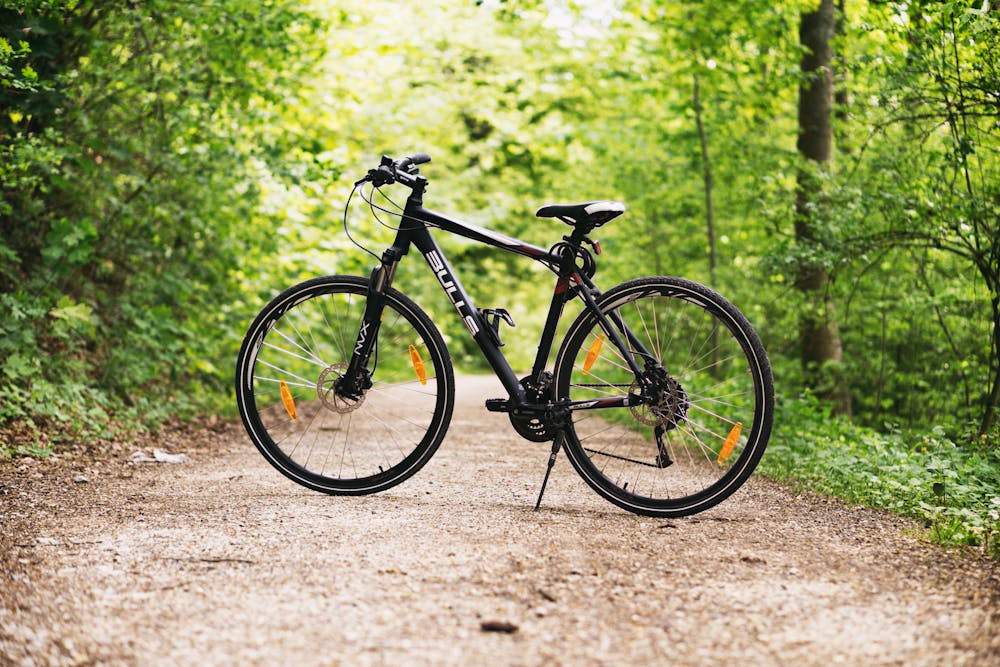 WHAT ARE THE BEST BIKEPACKING BIKES?
A bikepacking bike can be any old bike however, not all bikes are created equal. Unless you know the entire trail is paved, a road bike is not plan A. You'll feel like you're in the Tour de France all the way until you puncture a tire…
So, ideally you will want the ability for wider tyres. If the ground is particularly muddy, ideally the wide tyres would also be providing plenty of grip.
Suspension is optional however, full-suspension bikes can have rear shocks which dislodge the bikepacking bag. In fact, most bikepackers ride bikes with a rigid frame. However, as with all biking, lightweight frames are ideal for longer distances. Trust me, you'll notice the difference.
Overall, the ideal bikepacking bike is lightweight and rigid, have plenty of room for bags, and able to use wide tyres. However, this all depends on the route you chose to do and personal preference. You don't need the perfect bike to bikepack, it just needs to go.
I'VE GOT THE BIKE, NOW THE BAGS?
The bikepacking bags are where you can put everything and release your inner camel, it's incredibly important for a successful experience. The hanging bags from the handlebars and behind the saddle make you truly look like you're venturing into the unknown.
There are four types of bikepacking bag, which we will run you through now:
Handlebar Bag: This bag hangs on your front, between the handlebars and usually offers a decent amount of space. So, it is a great place to store spare clothes, tents, cooking pans or sleeping bags. As it is a quick bag to reach, perhaps storing items you will use regularly is a good move.
Saddle Bag: This offers a similar space to the handlebar bag. So, it could store any of the bigger items. The bag goes behind the saddle, joining the seat post to saddle.
Frame Bag: These bags are located between the three large central frames of the bike. These bags can be big enough to take the entire space. Or, if you want to keep your water bottle access available, smaller bags are available. Suspension can get in the way of the bags; therefore, it is best to check the bag is appropriate for your bike.
Accessory Bag: This is a small bag in front of your handlebars that is incredibly easy to access. While this bag is optional, it is useful for items you'll constantly be using such as a map, foods or waterproofs.
Some kit specialists to start your search include: Wildcat Gear, AlpKit and Apidura.
YOU'VE GOT THE BIKE, THE BAGS… BUT YOU NEED FUEL!
Cars run on petrol. While you're not a car, you still run on something…food! So, it's highly important you pick the best food to carry you into the remote places of your dreams.
As with camping, the best bikepacking foods are filling, nutritious and simple. Foods such as pasta, rice, noodles and lentils are all favourites of the experienced bike packer. It is also helpful to look at camping brands as they now make meals in little bags which simple need heating up over the stove.
This all means you'll need a stove, fuel for the stove and potentially a pan (which also works as a bowl).
Snacks are also key when bikepacking. These can be sugary to provide an initial bit of energy, or more starch based to provide long releasing energy. As bikepacking is hard work – and you have plenty of bag space – it is best to make sure you have enough snacks. Maybe a snack for every two/three hours of exercise.
WHAT ABOUT SLEEPING?
Bikepacking tents, sleeping bags and mats must be both lightweight and compact. This really is the case for every bit of gear as, while you have more capacity than simply camping, you do not want too much heavy gear over rough and difficult terrain.
Packing in each of the bags becomes a real-life Tetris challenge, and you don't want to that challenge with bulky equipment. However, as bikepacking has become increasingly prevalent, equipment has becoming lighter and more compact.
So, the best tent is a lightweight and compact tent which retains waterproofing and windproofing. The best sleeping bag is lightweight and compacts, while also being suitable for the heat conditions of the expedition (it is best to check this in advance as night-time temperatures can be dramatic).
If there are multiple people on the bikepacking trip, splitting a larger tent between the group is also a possible route to take.
You can find more about sleeping essentials here.
If you are comfortable with them, bivvy bags are the ultimate lightweight and compact choice. However, fair warning, the night's sleep will likely be less than ideal. Especially if the bivvy bag is not of sufficient quality.
The ultimate way of saving space is by sleeping somewhere with a roof over its head… perhaps a 5-star hotel? But then what you're doing is cycling multiple days in a row, so this isn't for you.
FINAL EQUIPMENT?
The final bits of equipment are all relatively self-explanatory.
You'll need a bike puncture kit and an understanding of how to use it. In the unlikely event there is a puncture, being miles away from civilisation with heavy equipment and a bike you struggle to move is not plan A…B, C, or even D. So, it is imperative you are prepared for this eventuality.
Whilst we are on the lines of bike safety, bike lights and a head-torch is important. Perhaps you don't need to watch out for cars however, light sources can leave quick, and even a cloudy day can make terrain difficult to navigate. So, alternate sources of light are important for ensuring you can keep going when push comes to shove.
A helmet is also vital. It is with any cycling but, due to the terrain of bikepacking, it is even more important.
As with an expedition, correct clothes are important. Be it waterproofs, a change of clothes or the clothes you cycle in, it is important to make sure they are suitable. However, suitability often depends on the climate of expedition so, it is best to get local advice on this matter.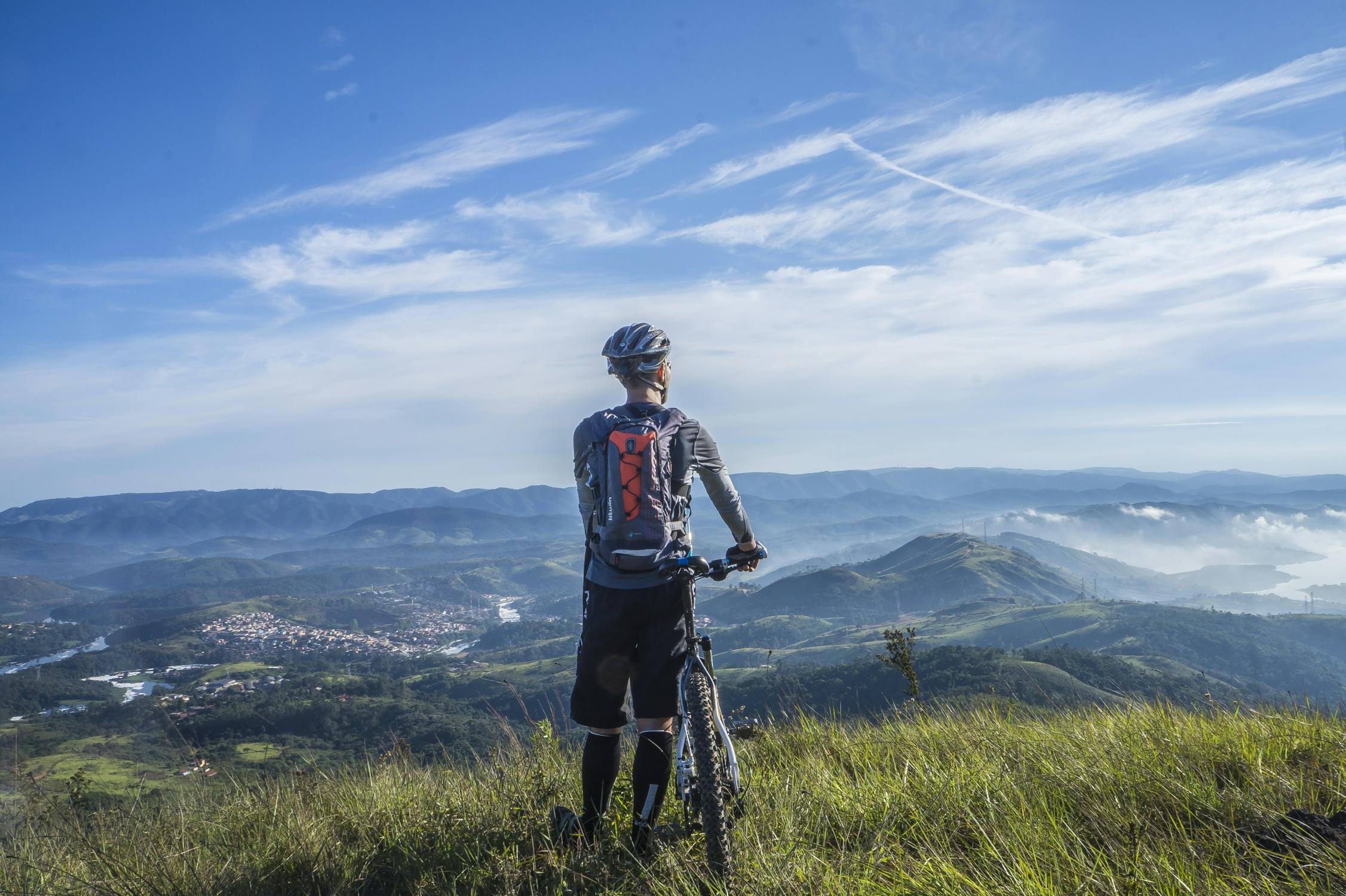 ANY LAST THINGS
That's most of the equipment out of the way. The final thing is a way of navigating. Be it a map and compass, or your phone with a charger, whatever works best for you. It is also important to follow all local rules and 'leave no trace' to protect the ecological environment for others.