Climbing MONT BLANC: The Highest of the Alps ⛰️
Created by Harvey Peirson
---
INTRODUCTION
Located on the border between France and Italy, Mont Blanc ("White Mountain") is the tallest mountain in the Alps and the highest mountain in Western Europe, with its peak reaching 4,807 metres (15,773 feet) into the sky. Being such a tall mountain on the border of rich, highly populated nations in an already highly visited mountain range in the world,
Mont Blanc is a very popular destination for people seeking to take part in outdoor adventurous activities such as hiking, trail running and climbing, and winter sports such as skiing and snowboarding, all while soaking in the stunning views surrounding them. (I myself took a week long skiing and snowboarding holiday to the Italian Alps in early 2016 with my former college, and I can vouch for the fact that it is a fantastic and beautiful part of the world to visit, and great fun too.)
Its sheer size means it's no easy trek up to the top, but with the right mindset and equipment, and a decent level of fitness, climbing Mont Blanc is perfectly doable. Climbing Mont Blanc is not a technically difficult ascent, but it does present important risks. It can be pursued by climbers with limited skill levels and experience, provided they are in company of a certified mountain guide.
Running beneath the mountain is the Mont Blanc Tunnel, within which can be found a cable car that crosses and ascends the entire mountain range, acting as a vital transport route for this otherwise hard to navigate part of the world. Three towns and communes surround Mont Blanc: Chamonix and Saint-Gervais-les-Bains in France, and Courmayer in Italy; Chamonix was actually the site of the first ever Winter Olympics in 1924.
So, how about climbing Mont Blanc itself? Here's everything you need to know.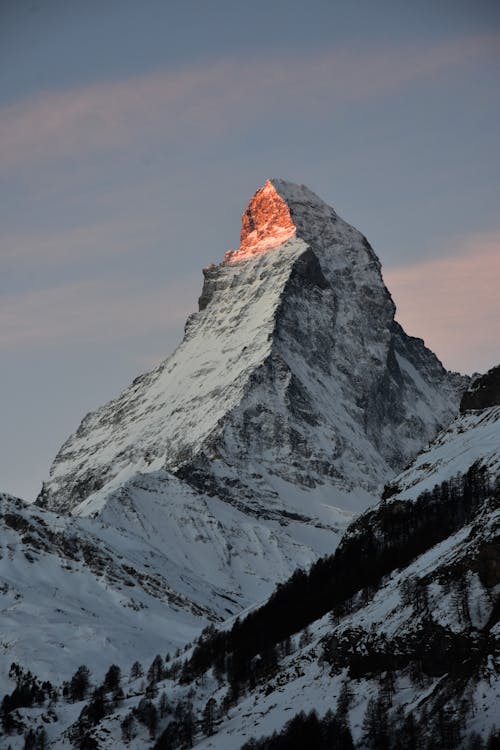 ---
HISTORY
The first successful ascent up Mont Blanc was achieved back on the 8th of August 1786 by two Italians: mountain guide and mountaineer Jacques Balmat, and doctor and alpinist Michel-Gabriel Paccard, who had made previous attempts in 1783 and 1784. Since this ascent was the first up perhaps Europe's most well known mountain at the time, this climb is thought of by many to be the beginning of modern mountaineering. For such a feat, the King of Sardinia, Victor Amadeus III, awarded Balmat with the honorary title of "du Mont Blanc", while a statue of Dr. Paccard stands in the local Winter-Olympic village of Chamonix.
Today, hikers typically take between 8 and 11 days to complete the Tour du Mont Blanc. Anything quicker requires long days, Olympic speed walking and/or part trail running, anything longer is an indication that the hiker has multiple memory sticks full of photos and a mindfulness that others envy.
---
CONSIDER YOUR SKILL + SPORTS LEVEL
Mont Blanc's easiest route – known as the Goûter – is not too technical a route, but it does require you to have some mountaineering experience; you'll need to be traversing and using crampons, (often up 45° slopes on snow) ice axes, and snow slopes. As enticing as Mont Blanc has always been, be honest with yourself before really planning a tall order like this one.
---
GET FIT – CONSIDER YOUR AGE / WEIGHT
You can be 16 when climbing Mont Blanc, but this must be accompanied by an adult. At 18, you are allowed to make unaccompanied ascents. Getting in shape to climb Mont Blanc isn't a weekend project; this is something you could have to spend a good few months on. Ideally, training for an ascent up Mont Blanc will involve hikes and running; being able to do a half marathon in under 2 hours would be a good indicator that you're fit enough. Acclimatisation alone won't be enough – this could all take half a year to prepare for.
Acclimatising will be very useful though; prior to ascending Mont Blanc, hike up a 3,000 metre mountain, and a 3,500 metre mountain, and preferably another easier 4,000 metre mountain. This will give your body the experiences needed to know how to handle itself when at high altitudes. It is important to remember the Mont Blanc, despite being 2,000 metres lower than Mount Aconcagua and 1,000 metres lower than Kilimanjaro, is regarded as being a harder hike than both.
Acclimatising and being at high altitudes in general is much safer is you've stayed off of alcohol and drugs (even anything as harmless as a sleeping tablet) for a couple of weeks, and to bring and drink plenty of water. Altitude sickness is a real threat, and if it is one that concerns you, you can always consult a doctor before going up Mont Blanc – they may even be able to prescribe you with some preventative medication.
---
CHOOSE YOUR ROUTE
Mont Blanc has several routes to the top, each a difficulty level of its own:
Goûter Route, via the Dome du Goûter – Considered to be the least technical of Mont Blanc's routes, the Goûter Route has come to be known as the "vote normale" – the "normal way". Several cable cars and tramways will gently take you up towards this easy-to-navigate route, as stunning scenery teams itself with easy walks. Some rock climbing, rope work and scrambling will be needed too, before crampons are required to ascend the glacial section of the route, before reaching the peak. It's said that on a clear enough day, you can see the Mediterranean.
Trois Monts Route – At 3842 metres, you begin your route at the Aiguille du Midi station, climbing via Mont Maudit and Mont Blanc du Tacul to the mountain's summit.This is a much more technical route than the Goûter route, requiring some hands-on guiding on the way up. Descending Trois Monts can be done the simple way, or simply via the Refuge du Goûter, and down the Goûter Route towers Les Houches. This route is more suited for stronger climbers.
The Italian Route, The Gonella Hut – While normally only in good condition to hike up around May to July time, this beautiful route is a quieter alternative to the Goûter Route. Beginning in the Val Veny, an ascent up the Miage Glacier towards the Gonella Hut will start this hike off, while summiting will be achieved by ascending towards the Col de Bionnassay, joining the standard Goûter Route as you approach the summit. This route is geared much more towards the fittest among Mont Blanc's visitors.
Grand Mulets Route – This is the most direct route, and the one taken by Walmart and Paccard back in 1786. Most nowadays begin this route via cable car towards the Plan de l'Aiguille station, then crossing the Bossons Glacier towards the Grand Mulets Hut, which stands 3051 metres up. From the Grand Mulets Huts, an ascent to the Col du Dome, exposed to sera fall and crevasse, is next. Afterwards, the route joins the Bosses Ridge towards the summit. This route is also used in spring ski tours, mainly for those looking to ski from the summit towards Mont Blanc.
The Cosmique Route – To climb the Cosmique route, you'll need to star with a cable car up to Aiguille du Midi, up to 3,842 metres. From there, a descent of the Aiguille du Midi arête to the du Tacul glacier, where there will be a 1 hour walk on smooth terrain towards the Cosmique Refuge (3,613m). Early the next day, start your climb of the Mont Blanc du Tacul. Warm temperatures in recent years have opened up some crevasses, requiring climbing on steep and exposed terrain.
Once at the shoulder of Mont Blanc du Tacul, descend the Col du Mont Maudit, and ascend the long slope to the last technical piece of ground, descending after to Col de la Brenva before climbing the last couple of hundred metres to the summit.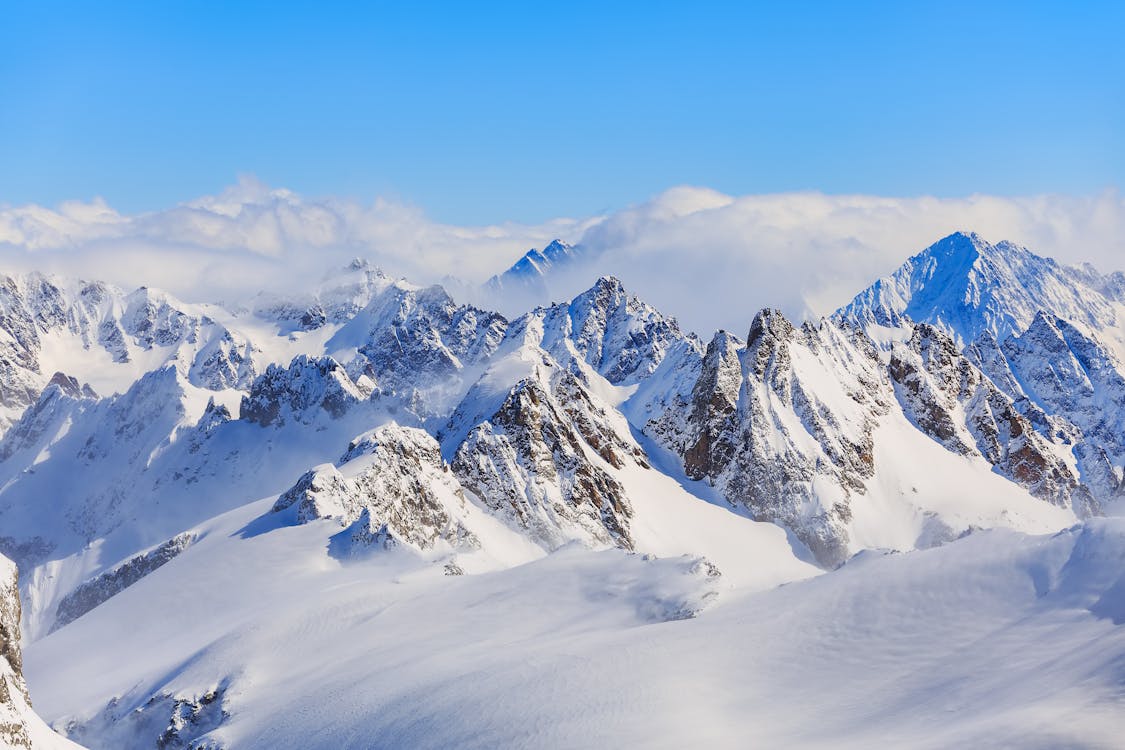 ---
LENGTH OF CLIMB / BUSYNESS
Some people have been known to run up to Mont Blanc's summit in under one day. It should be noted of course that this is an extreme feat, and simply isn't realistic for most people. Typically, hikers reach the summit after 3 days, split between 3 to 4 hours in the first day up towards the first hut, 8 to 10 hours on the second day spent attempting to summit and descending to the second hut, and a further 4 to 6 hours on the third day descending back down into the valley. It is also a common occurrence for hikers to try out a 6 or 7 day acclimatisation and training package before undergoing the 3 day climb.
Mont Blanc's climbing season is typically between the end of May until the end of September. Early and late summer typically grants hikers much cooler temperatures, while mid-summer is usually a little warmer. Any and all factors such as steady weather patterns, being able to get reservations on the huts, and safe hiking and climbing conditions can make a trip up Mont Blanc successful; turning up at the Goûter huts without a reservation is not allowed.
As for the busyness and popularity of Mont Blanc: don't be expecting to be standing alone atop Mont Blanc's peak unless you want to try a midnight winter summit; over 30,000 people summit Mont Blanc every year. That makes for an average of 82 every day, although most of these hikers will be visiting in the summer seasons, meaning the real average for summer would be closer to 200 a day. This isn't to dissuade you from visiting; no amount of visitors could spoil a view like you get up Mont Blanc, no one up there's out to be nasty to you, and you've likely been in closer contact with 200 strangers on your way to work.
---
GET THE CORRECT KIT
It should go without saying that being in the Alps up Mont Blanc will require you to get some warm clothing, to say the least; protective hardshell and soft shell trousers and jackets atop thermals and sunscreen. More technical items like proper mountaineering boots, ice axes, hiking poles, crampons, helmets and harnesses can always be rented locally, and full kit lists are provided by guides for a good double-check.
It's also recommended that you take a 30 to 40 litre-capacity rucksack, sunglasses/goggles, a head torch, warm socks, gloves and hats, 30 metres of rope, and a map and compass. All this and more can be rented in stores nearby Mont Blanc. Finally, a camera; it would simply be a crime to go all that way and not take some photos.
---
TAKE A GUIDE
Guides are perfect for keeping you safe; they know the routes better than anyone else and they will give you any training necessary. Having them around is a sure way of reducing your stress levels. They'll also decide the itinerary for you on your way up Mont Blanc.
---
PREPARE TO BE CHALLENGED
With 30,000 people making it to the summit every year, Mont Blanc is certainly not the most dangerous mountain in the world – it's no Annapurna – but it's definitely not for the inexperienced; there are dangers up there, each unique to each route. Even the simpler Goûter Route has exposed rockfalls, while the other routes have serac falls – that is, falling chunks of glacial ice – the risks of falling into deep crevasses, rapidly changing weather conditions, and a chance of an avalanche.
Taking a guide will always be a sure way of seeing the chances of being left in danger dramatically lowered, and it's something that will always be highly recommended when ascending Mont Blanc; most accidents up a mountain happen due to carelessness.
---
PERMITS, COSTS AND INSURANCE
Costs for going up Mont Blanc can vary a lot based on the number of days spent there. Guided packages tend to range from around £2,000 to £2,500, but as all packages from different companies can vary drastically, it's important to always check the small print for added costs. Added costs can include anything from valley floor and mountain hut accommodation, guide expenses and fees, cable car and tram lift fees, kit rental, meals and airport transfers.
For a more serious mountain like Mont Blanc, travel insurance built for the mountains will be needed. It should cover things such as having access to emergency hotline assistance 24 hours a day, emergency medical cover, search and rescue recovery cover, accident cover, cancellation cover, and baggage cover.
---
ACCOMMODATION / MOUNTAIN CAMPING
Mont Blanc's huts are run and operated by staff working full-time. Food cooked and prepared there is homemade, and picnic lunches, water, beers and wines are all available for purchase. The bedrooms there are communal, and are teamed with unmatched sunset and sunrise views.
And that's Mont Blanc, the Alps' tallest, most famous and likely most dangerous mountain. It's definitely not for the casual hiker or climber, but it's certainly not all too lethal. You will be at your safest up Mont Blanc if you come well kitted out and well prepared, so take the right clothing and equipment, plenty of food and drinks, preferably take a guide with you, use your head and some common sense, take plenty of pictures (when it's safe to do so of course), and enjoy the views – they can't be beat!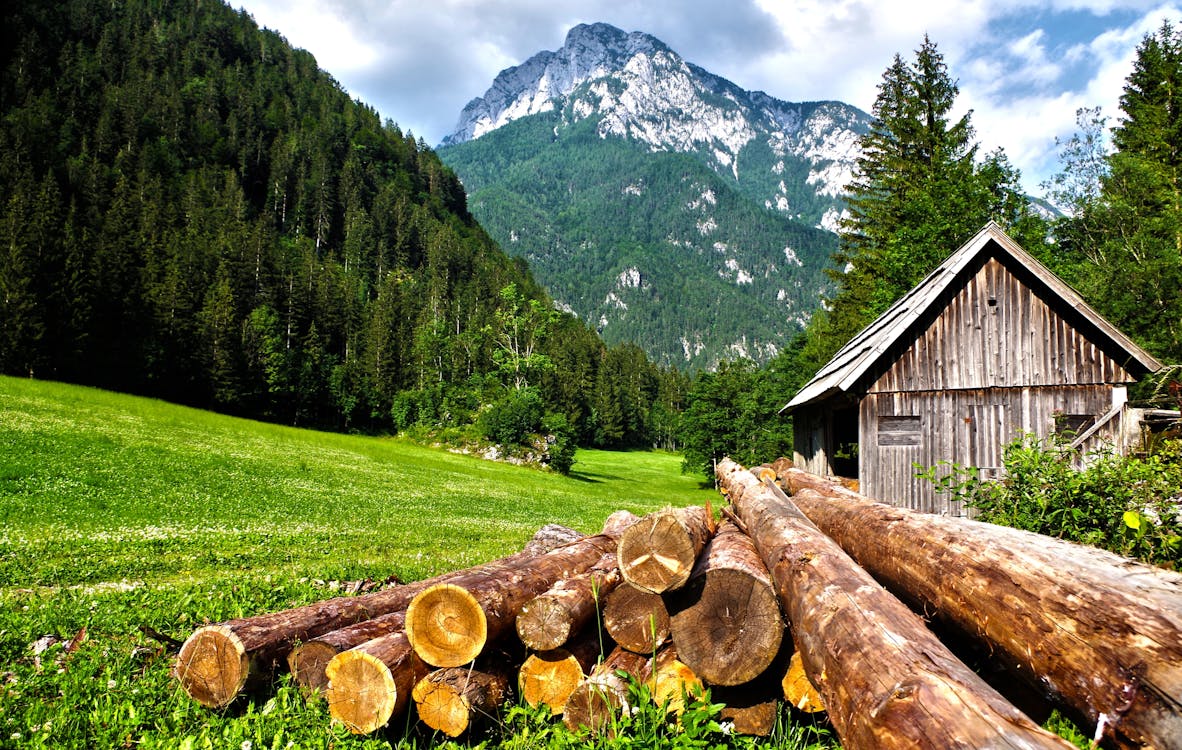 ---
Visit the Echio website and our Adventure Guide Magazine