EVEREST: Beating the #1 Highest Mountain in the World⛰️
Created by Harvey Peirson
---
INTRODUCTION
This likely isn't news to you, but Mount Everest is the highest mountain in the world. Its height is usually measured by its peak's elevation above sea level, but should mountain heights be measured from their base and not by sea level, the active Hawaiian volcano known as Mauna Kea, from its submerged base to its peak, is around 10 kilometres tall, nearly a whole mile taller than Everest.
Even still, its peak is under half the heigh from sea level as Everest, which stands towering above all mountains in the Himalayas on the Nepal-Tibet border at an altitude of 8,848 metres (29,031 feet) above sea level; The China–Nepal border runs across its summit point. Up there, temperatures can plummet down to as low as -35° centigrade, and windspeed can soar up to 175 miles per hour.
Everest's elevation puts its peak at over half a mile above the 8,000 metre altitude known as the Death Zone, where oxygen tanks are needed to sustain people. Being a member of the 14 Peaks – the fourteen highest mountains in the world that all peak above 8,000 metres – Everest is no doubt a dangerous mountain to ascend. Everest also neighbours the fourth and fifth tallest mountains, Lhotse and Makalu, naturally making the area a huge hotspot for experienced mountaineers and climbers.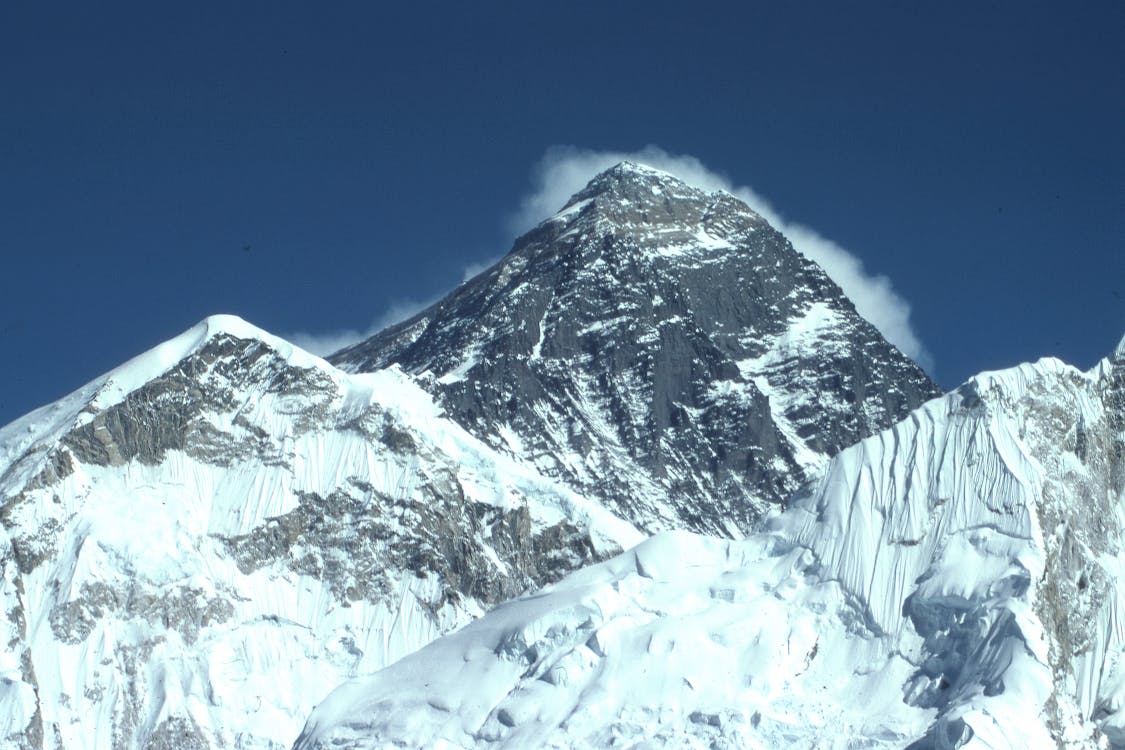 ---
HISTORY
First surveyed as the tallest mountain in 1856 by the Indian (then British Raj) government, the highest mountain in the world was originally just called "Peak XV". It was eventually renamed after the British Colonel Sir George Everest (pronounced "Eve-rest" instead of "Ever-est"), the surveyor-general of British Raj at the time. It also goes by the local Tibetan and Nepalese names, "Chomolungma" ("Goddess Mother of the World") and Sagarmatha ("Forehead in the Sky").
Known attempts to scale the highest mountain in the world date back to the early 20th century; George Mallory made an unsuccessful attempt in 1921, and a fatal attempt in 1924. It would take nearly 30 years until New Zealand's Sir Edmund Hillary and Sherpa Tenzing Norgay made the first successful ascent of the highest mountain in the world in 1953, taking roughly 2 months, and Japan's Junko Tabei would become the first woman to reach Everest's peak in 1975.
But Everest's history with humans doesn't stop at its sheer height; the highest mountain in the world was home to the world's highest altitude concert in 2019, for example. Records are fairly regularly broken up the highest mountain in the world, and one can imagine that similar wacky records will continue to be broken atop Everest's slopes.
Mount Everest, the highest mountain on earth, attracts hundreds of climbers every year, and has a 14.1% fatality rate. There have been over 200 climbing deaths on Mount Everest. Many of the bodies remain to serve as a grave reminder for those who follow.
---
REINHOLD MESSNER
One record in particular involves not just the highest mountain in the world, but all 14 of the highest peaks: ascending all 8,000 metre peaks as quickly as possible, perhaps the most gruelling and dangerous sport-related record there is. As this involves lethal mountains such as Annapurna I and the notorious K2, and given the costs of organising such expeditions, very few people have attempted this record.
Few, but not none; in 1986, Italian mountaineer and explorer Reinhold Messner became the first person in history to have climbed all 14 peaks in a lifetime, taking him nearly 7 years to do so. His ascent up the highest mountain in the world was done on his own, another notable world first.
---
NIMS PURJA
Messner's record 7 years would be shattered by Nepalese-born former Gurkha Nirmal "Nims" Purja; setting out on what he called "Project Possible", Nims ascended all 14 peaks in a mind-blowing 6 months and 6 days. His ascent up the highest mountain in the world was equally impressive, for he peaked not only the highest mountain in the world, but also its neighbouring eight-thousanders, Lhotse and Makalu, within a record 48 hours. Despite heavy 300-man queues on the way to the top, Nims and his team accomplished their 2-day target, setting another record in the process.
---
TOURISM
As soon as one successful climb of the highest mountain in the world is made, it opens the floodgates; today, highest mountain in the world is often overcrowded with tourists, all keen to reach the very top of the world. This has brought the mountain much scrutiny in recently, but this very likely not stop it from drawing people in, crowds or not. Being labelled as the highest mountain in the world has earned Everest around 5,000 climbers and mountaineers from across the world every year attempting to reach its peak.
While it's a thoroughly climbed route, Everest is still a treacherous and dangerous ascent; while roughly 7,600 successful summits have been made, around 300 people have also lost their lives to the highest mountain in the world – not dangerous compared to its Eight-Thousander rivals, but not something to shrug off; only experienced climbers and/or mountaineers should realistically attempt a full summit of the highest mountain in the world.
---
ROUTES
To ascend to the peak of the highest mountain in the world, a mountaineer can trek up several routes, but most prominent are its main 2 routes: the Tibetan North Col and the Nepalese South Col. Nepal's southern route is often thought of as the easiest of the two, and was the route that Sir Edmund Hillary and Tenzing Norgay used in their ascent, as were the other first 14 treks up until 1996.
This route was taken at the time, however, due to politics rather than the route being easy; China's borders were closed to the West at the time, since the Chinese invasion of Tibet was taking place. Nevertheless, of the two, it is still regarded as the easier of the two routes, even with  more recently eased border conflicts.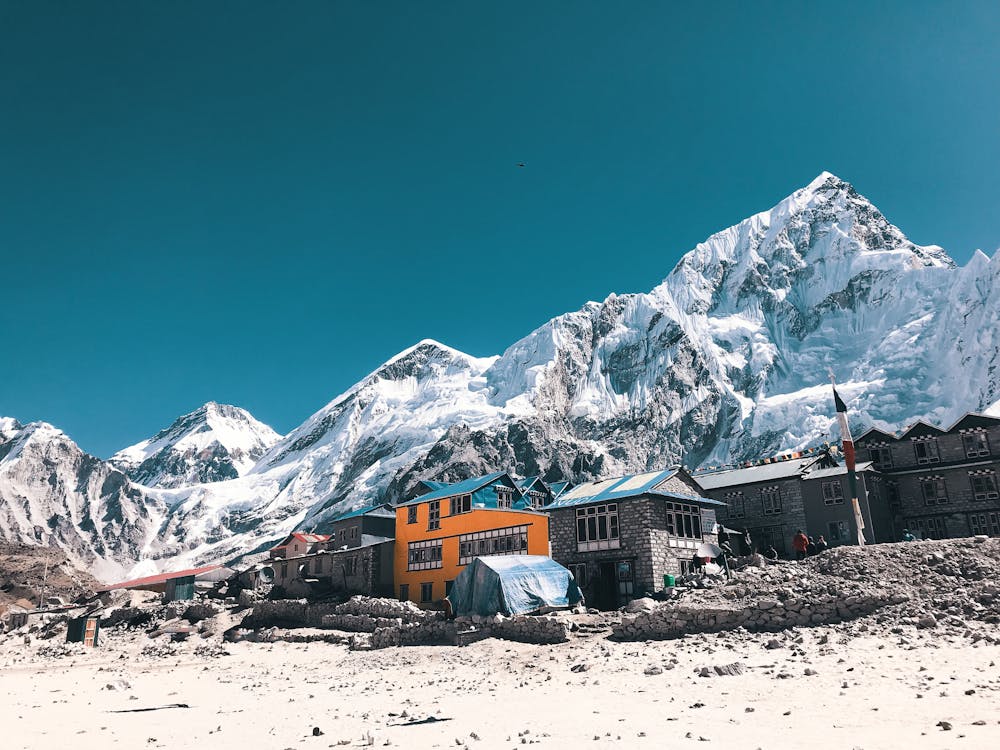 The South Route
For Everest's Nepalese south col, a 6 to 8 day trek up 5,380 metres to base camp will start your journey towards the peak. Supplies and equipment are usually hauled up by workers, but often also yaks; Sir Edmund Hillary's expedition involved no less than 400 people, including fellow mountaineers and climbers, local Sherpas and guides, and porters. Climbers tend to remain at base camp for around 2 weeks before going any further to acclimatise to the extreme altitude and help ward off altitude sickness.
While the mountaineers rest, local Sherpas set ladders and ropes up at the Khumbu Icefall, a sheer drop known as one of the deadliest parts of the ascent up the highest mountain in the world; most expeditions that pass this section often do so before dawn, as the lower temperatures cause the ice to be more frozen into place, before reaching Camp I.
Climbers then trek up towards the base of the face of Mount Lhotse, the fourth highest mountain in the world, towards Camp II. Lhotse face from here can only be properly climbed with fixed ropes, after which lies Camp III on a ledge. A further half a kilometre upwards, just outside the Death Zone, is Camp IV, which on the way will require a further 100 metres or so of rope to traverse. From here, at 7,920 metres, is the Death Zone, meaning climbers have no more than 2 or 3 days at this altitude.
It's key then that the weather and conditions up there be as clear as possible to make it to the top; still faced with a kilometre of low-oxygen climbing, a forced descent will be required should the weather not work in the climber's favour. The best time to begin from Camp IV is at midnight, with the goal to reach the peak being within 10 to 12 hours. Ridges, avalanche hazards, waist-deep snow and sheer ice await.
From the South Summit, spaced-out rock clung with snow covers the most exposed section of the climb, known as the Cornice Traverse. One wrong step here can send someone falling one an a half miles straight down. Following this traverse is the 12 metre wall of rock, known as the Hillary Step, as Sir Edmund Hillary and Tenzing were the first to climb it, using basic ropes and ice climbing gear. Now, fixed ropes allow climbers to more safely ascend. Atop the step and aside from some harsh weather exposure as usual, it's then a relatively easy climb to top the snowy slopes.
Increases in tourism up Everest has made this section a common place for queues to form, not something you want when still in the Death Zone. Once up the Hillary Step, one has to traverse loose rocks using fixed ropes, a difficult section in bad weather. Less than half an hour is usually spent up the summit, to allow enough time for a descent back to Camp IV before it gets too dark and before really bad weather sets in.
The North Route
Starting in Tibet, the first base camp is up 5,180 metres below a glacier, set on a plain of gravel. Reaching Camp II requires a climb up the medial moraine, roughly a thousand metres in total. A further 400 metres will take your to Camp III, located below the North Col. To then reach the North Col and Camp IV, a glacier must be ascended with fixed ropes, to take you up a further 500 metres. From there, the north rocky ridge will take you to camp V, roughly 750 more metres upwards.
The North Route then diagonally crosses over to the base of the Yellow Band, where climbers make it to Camp VI another 500 metres up at 8,230 metres. From there, it's a final push to the summit; on the way is the Chinese Ladder, a metal ladder set up in a 1975 climb by Chinese mountaineers, and has been used by nearly everyone who's taken this route. A final 12 hour scramble, including up a 50° slope, will take you up to the 8,848 metre peak.
---
THE SUMMIT
Described as being "the size of a dining room table", the highest mountain in the world's summit is topped with a layer of snow – which varies in thickness every year – atop some ice, atop rock. Just below the summit is the "rainbow valley". Despite its friendly name, it actually describes the various bright coloured jackets still worn by the corpses found here. Since climbers are as high into the Death Zone as it's physically possible to be by foot, no more than half an hour spent atop the highest mountain in the world peak is recommended, as risks such as oxygen deprivation, severe frost bite, and extreme winds can still claim people.
Oxygen levels are 3 times less up there than they are at sea level, and someone not acclimatised to these extreme altitudes without oxygen supplies can loose consciousness within 2 to 3 minutes, and a person's breathing rate can typically increase from a regular 20 to 30 breaths per minute up to a dizzying 80 to 90; people can tire themselves out easily simply by remaining too idle and breathing. Maybe as expected, most deaths up Everest occur within the Death Zone.
Despite all this, the highest mountain in the world is still much safer than most other extreme peaks; K2, Annapurna and even Mont Blanc experience higher fatality rates than Everest; anything from the amount of people up a mountain at a time to the personal skill of the climbers can affect mortality rates.
One other hazard in the Death Zone of Everest is known as retinal haemorrhages. This damages eyesight significantly and can even lead to a climber being blind; a quarter of the highest mountain in the world's climbers have gone through retinal haemorrhages. Although most recover from it within a couple of weeks after their climb, going blind while still up Everest can easily become a death sentence.
---
OXYGEN SUPPLIES
Making it to the peak of the highest mountain in the world, and indeed peaking any of the eight-thousanders, will absolutely require oxygen tanks and masks; only the most veteran of mountaineers have and do make it up the highest mountain in the world without oxygen equipment – around 5 percent of all Everest climbers in fact – and they still take serious risks in doing so. Low oxygen not only keeps you out of breath, but reduces fuel to your brain, lowering your capacity to think clearly.
This combined with low temperatures and extreme weather make summiting Everest without oxygen a serious challenge; death rates are doubled up in the Death Zone once oxygen equipment is out the equation. Brain cells can in fact being to die off after only 5 minutes of oxygen deprivation. Many mountaineers, however, remain divided as to whether you should use oxygen supplies, with some calling it "unsportsmanlike", yet still admit they themselves could not make the summit without the right supplies.
---
CONCLUSION
To sum up, the highest mountain in the world is not a casual climb; at times, it's a treacherous, often fatal, ascent to the peak itself. While a good level of mountaineering and climbing experience should be gained prior to ascending Everest, it is, however, perfectly doable, and a much less dangerous mountain than other extreme peaks around the world. Either way, Everest will always be a great magnet for keen mountaineers and climbers alike, eager to claim that they too made it to quite literally the very top of the world.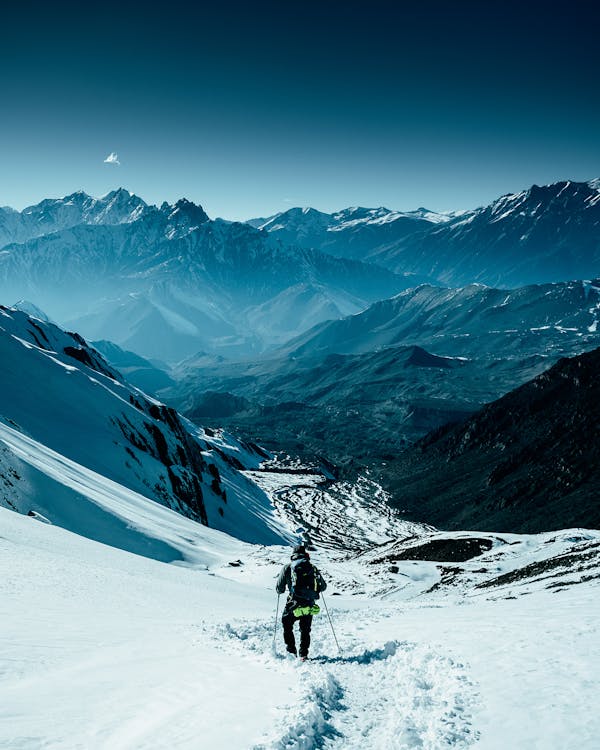 ---
Visit the Echio website and our Adventure Guide Magazine