Touring Scotland in an Electric Car 🏴󠁧󠁢󠁳󠁣󠁴󠁿
Created by Harvey Peirson
---
INTRODUCTION
If you want to mix your love of beautiful scenery with your love of travelling on the open road with your love of being eco-friendly, then touring Scotland in an electric car is definitely for you. A holiday in a self-driving car is also becoming more and more of an option for people too, as self-driving cars become more and more widely available, birthing more diverse models to choose from – there has not been a more ideal time for touring Scotland in an electric car.
ChargePlace Scotland is a growing national network of public charge points for electric vehicles. Registering requires a credit card, but many charge points in Scotland are currently free to use. This website also features a dedicated map of charge points, detailing their location, type, status and live availability. Average domestic electricity rate in the whole of the UK is about 17p per kWh**. Fully charging a 60kWh electric car will cost between £9.00 and £9.90 (depending on where you live) and give you about 200 miles of range.
So, why should you consider touring Scotland in an electric car? Well, its natural green and highland beauty is an envy of the world for a start, and its old cities are rich in a proud history, culture and heritage. From Edinburgh to Glasgow, and from National Parks to the infamous Scottish highlands, Scotland is truly blessed. She is now even more blessed with more and more accessible and widely distributed electric car charging stations, allowing you to soak in the gorgeous sights and sceneries in even more comfort and quiet than before.
With that said, here are some of the most well known attractions ideal to visit when touring Scotland in an electric car.
---
EDINBURGH
Where else to start touring Scotland in an electric car than Scotland's own capital city? If you're renting then it's likely that you'll probably pick the car up from here anyway, or Glasgow. Either way, it's good to know that wherever you start in the country when touring Scotland in an electric car that Edinburgh has over thirty public charging stations dotted throughout.
Edinburgh then is a great location to familiarise yourself with not just the country, but your very own electric vehicle and the charging process, should it all be new to you. All you have to do is get your charging-up cables from your car's boot prior to plugging it in, and activate it using a downloadable app such as Zap-Map or Tesla.

As a handy tip, the Radisson Blue Hotel on the Royal Mile has its own electric vehicle charging station, as does the Nira Caledonia in the Georgian New Town. The Old Town is actually listed as a UNESCO World Heritage Site, and is definitely worth a visit during your stay in Edinburgh.
Starting first at the bottom of the Royal Mile's cobbled road while taking in the Scottish Parliament building and the Palace of Holyroodhouse, the official residence of the Queen when she's in Scotland, you'll make your way towards the infamous 12th century Edinburg Castle. From here, the New Town's Georgian Princes Street, Charlotte Square and George Street are all a walking distance away.
---
THE FALKLANDS AND CAIRNGORMS NATIONAL PARK
North of Edinburgh the Cairngorms National Park, Scotland's largest National Park. Home to a number of beautiful mountain ranges, the Cairngorms also has five of the United Kingdom's tallest peaks, the tallest being Ben Nevis, peaking above sea level at 1,345 metres. On top of that, there are plenty of forests, rivers and lochs, each full of a wide variety of wildlife, a common sight while you're touring Scotland in an electric car.
In total, the Cairngorms National Park has 54 electric vehicle charging stations dotted across thirteen locations, so you shouldn't really expect any queues for electricity while you're touring Scotland in an electric car, making it an ideal stop while touring Scotland in an electric car. Just note that the distance between these charging stations can be as far as fifty miles. On the way to the Cairngorms is the small, romantic Fife village of Falkland, which was shown as "Inverness" in the TV show, "Outlander".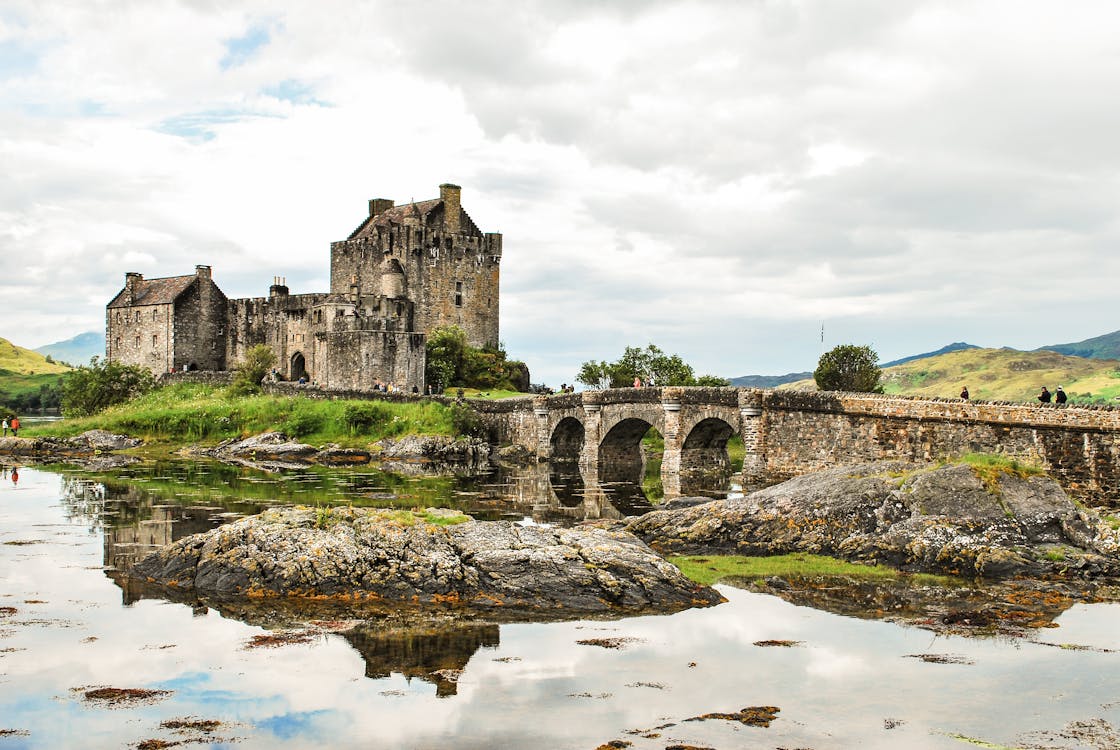 You can easily see more of the Cairngorms by staying at a campsite or in an inn or hotel. Several properties are dotted around nearby, boasting eco-friendly credentials. Some, such as Cairngorms Lodges, even have their very one electric vehicle charging points. Meanwhile, the Medieval village of Falkland is home to the Renaissance Falkland Palace, built by the Stewarts. It was also home to an adolescent Mary Queen of Scots. There are some café's there for you to stop off at too, and outside Falkland Community Hall, there is another electric vehicle charging station.
---
AVIEMORE AND LOCH NESS
Aviemore resort sits nestled in the gorgeous Highlands, in the north-west of the Cairngorms National Park. Nearby to it is the Highland Wildlife Park, home to, easily, Scotland's rarest indigenous species: the capercaillie and the Scottish Wildcat. It's an ideal stop while touring Scotland in an electric car, having three electric vehicle charging stations, one of which, at the Macdonald Highlands Hotel, is a Supercharger station. 
After Aviemore is the infamous Loch Ness. One complete circuit of the loch will take you 70 miles, as the B862 road gives you stunning views of the loch, with runs along its south-east shoreline. The Loch Ness Centre and Exhibition is a good place to stop on the way, especially if you're touring Scotland in an electric car, as it has its own charging station, and, surrounded by gorgeous views, it is definitely one of the most well placed charging stations in the country.
---
FORT AUGUSTUS AND TYNDRUM
Leaving Loch Ness and heading down the A82 road, one of Scotland's most scenic routes, you will eventually arrive at Fort Augustus, located in the very south of Loch Ness. Home to the Caledonian Canal, Fort Augustus is encircled by beautiful moors coated in purple heather and forests – it's all very much worth exploring by foot should you have the time while touring Scotland in an electric car. A calming stroll alongside the canal would also do you good, as it forms a part of the Great Glen Way, not too far from other beauty spots such as Beauty Firth.
At the outer edges of Loch Lomond nearby is the Trossachs National Park, which is worth a visit. On the way, one can make a stop at Fort William, which stands as the gateway to the United Kingdom's tallest mountain peak, which can easily be viewed from the distance as you approach: Ben Nevis. Then you'll be entering the gorgeous landscape of the Glencoe Valley, made famous in the James Bond film, "Skyfall".
Cruising gently alongside the banks of lochs like Tulla and Leven, you can take a break and get out of your car at small, idilic villages such as Bridge of Orchy, right before you arrive at Tyndrum. the Real Food Café in Tyndrum has its own electric car charging point in the car park, and is home to well made, delicious meals.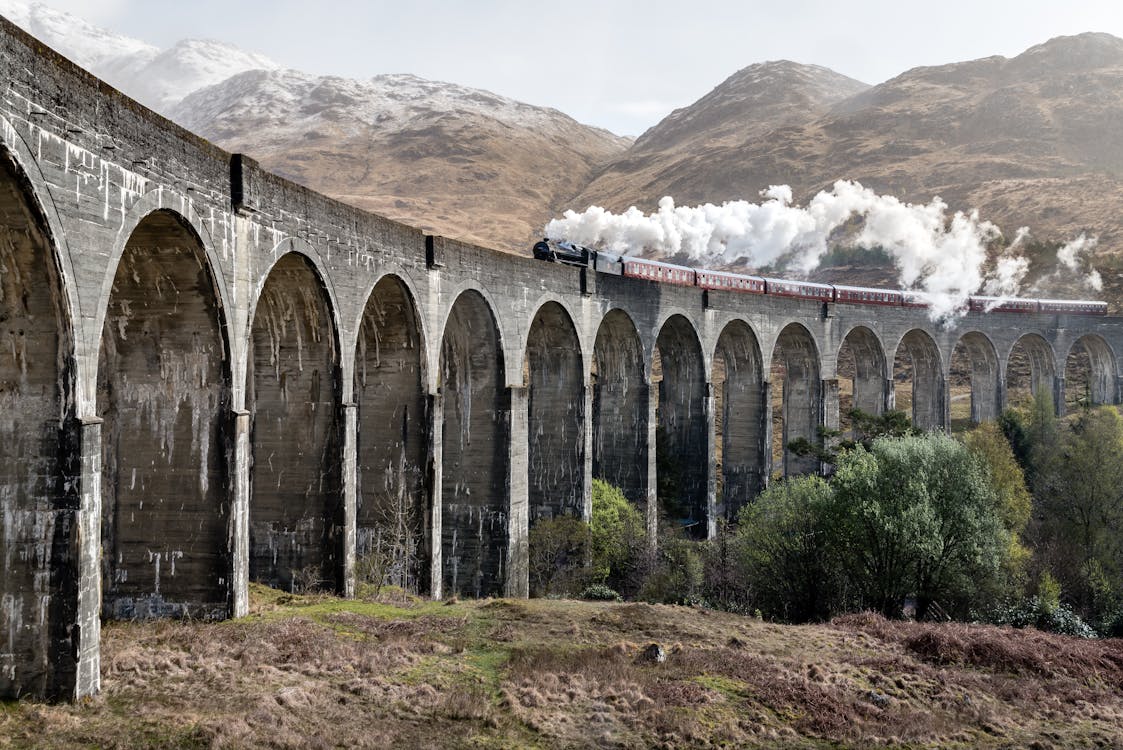 Visit Echio's website and our Adventure Magazine and Guide